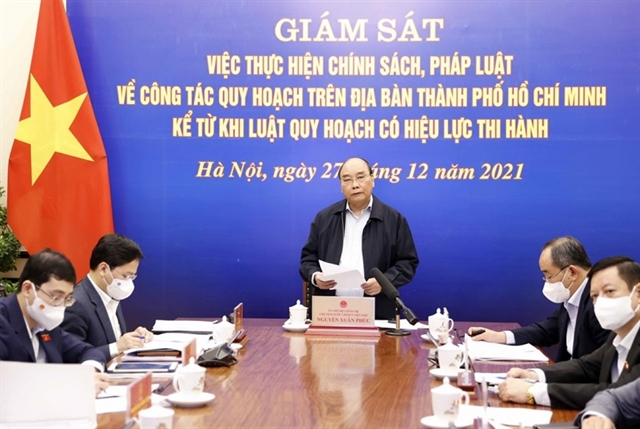 State President Nguyễn Xuân Phúc speaks at a recent online meeting with HCM City leaders on urban planning policies and regulations. VNA/VNS Photo
HCM CITY — State President Nguyễn Xuân Phúc has urged HCM City to develop long-term urban planning to ensure sustainable growth amid the fast pace of construction, high population density and environmental pollution.
Speaking at a recent online meeting with city leaders on urban planning policies, Phúc said: "To become a smart city, HCM City's urban planning must be consistent with its targets and orientations for long-term development."
Urban planning includes residential areas, industrial parks, green zones and others.
Phúc ordered HCM City authorities to revoke "long-delayed projects that are no longer feasible" that have affected thousands of homeowners who were asked to move to make way for these projects.
"The city must review all projects behind schedule, assess the capability of investors, and take back land allocated to the projects.
"There are projects that have not been implemented for 18-20 years, causing serious problems for people," he said.
The city must work with the Department of Planning and Architecture to instruct district authorities to review the feasibility of projects that have been delayed for years.
Phúc asked the city to choose developers with solid financial capacity and experience to implement the projects that are allowed to continue.
He said the city should set specific goals to boost economic development and improve competitiveness and the quality of life.
"HCM City should aim to become a smart and developed city which promotes the cultural identity of the southern region in its urban planning."
It should take the lead in promoting entrepreneurship and innovation, and become an international education and medical hub, Phúc said.
Legal framework
Experts said the city lacks legal documents on urban planning while progress in planning and adjustments has not kept up with development requirements.
Lê Hòa Bình, standing vice chairman of the People's Committee, said the city faced hurdles in developing urban planning under the provisions of the Planning Law.
The city is currently developing four master plans concurrently, including a master plan for the 2021-2030 period; an adjusted master plan to 2040; a master plan on the drainage system to 2030; and a water-supply master plan to 2040.
Inconsistency has created conflicts between those four plans.
The city wants the central government to provide a "legal framework" for urban planning, including 'specific regulations and mechanisms' for HCM City, according to Bình.
Bình has asked the Ministry of Planning and Investment to provide guidance on standard data to be included in the geographic information system (GIS) so that various approved master plans can be integrated into Big Data at the national level to ensure transparency.
Also speaking at the meeting, NA deputy Trương Trọng Nghĩa said the city should take advantage of resources such as biosphere reserves, marine resources and underground space.
The city should learn from other countries in optimising underground space, he said. "Việt Nam also needs a legal framework and regulations on urban underground space."
NA deputy Nguyễn Thị Hồng Hạnh, deputy director of the HCM City Department of Justice, said it was important to improve the management of public land in the city.
The People's Council recently approved a legal framework for the management of urban architecture, with a focus on public land in the city centre, especially near the Metro Line No 1's Bến Thành station. — VNS
HCM City needs legal framework for urban planning have 667 words, post on vietnamnews.vn at December 30, 2021. This is cached page on ReZone. If you want remove this page, please contact us.