Four people arrested in large drug trafficking ring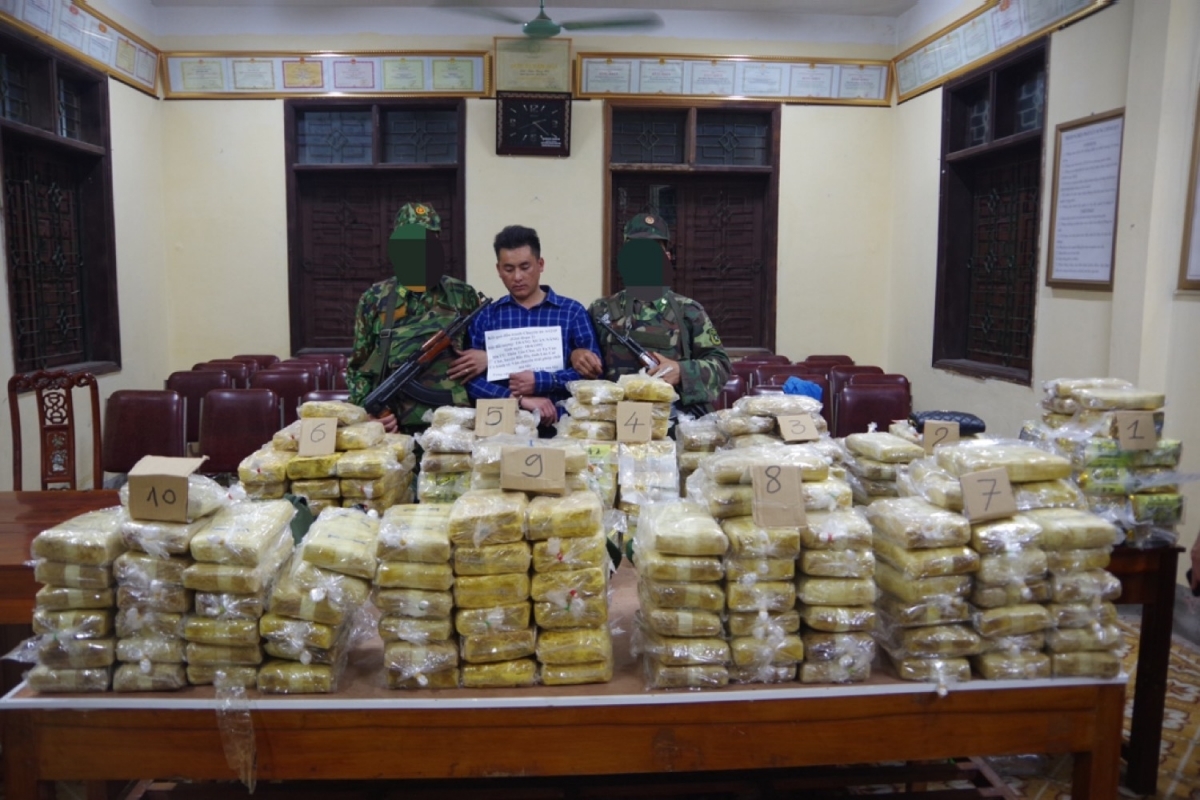 227.5 kilos of drugs are found in a car in Quynh Thien Commune, Hoang Mai Town on April 3
Four people have just been detained for their involvement in a large-scale transnational drug trafficking ring.
Police and border military officers in the central province of Nghe An also seized nearly 350 kilos of drugs of different kinds from the ring.
According to police reports, at 1 am on April 3, a man was caught red-handed while transporting 227.5 kilos of drugs in a car in Quynh Thien Commune, Hoang Mai Town.
Earlier on January 21 and March 20, three other men were detained while carrying 115 kilos of meth.
The four have been found to be in the same drug trafficking ring.
Initial investigations showed that the drugs were brought into Vietnam from Laos and were to be taken to China for sale.
Vietnam reports 11 new imported cases COVID-19 on April 6 afternoon
Eleven new COVID-19 cases, all imported, were recorded in Vietnam in the 12 hours to 6pm on April 6, the Ministry of Health said.
Among the new patients, there are nine males and two females. They are one Indian man, and 10 Vietnamese.
They have been quarantined upon their arrival in the country.
So far, Vietnam has reported 2,648 cases of COVID-19. Of the 1,603 domestic infections, 910 cases have been detected since January 27, when the latest outbreak began.
On April 6, six patients were discharged from hospital, raising the number of recoveries to 2,422, while the fatalities are still kept at 35.
Seventeen of those still undergoing treatment have tested negative for the coronavirus SARS-CoV-2 once, nine others twice, and 16 thrice, according to the ministry's Department of Medical Service Administration.
There are 36,701 people having close contact with confirmed cases or entering Vietnam from pandemic-hit regions under quarantine at present.
PM gives green light to 1-billion-tree growing project
The Prime Minister has issued a decision approving a project on growing 1 billion trees in Vietnam during the 2021 – 2025 period.
According to the project, of the 1 billion trees to be planted by the end of 2025, 690 million will be grown in urban and rural areas, and 310 million planted in protected, special, and production forests.
The project aims to protect the ecosystem, improve the scenery, respond to climate change, boost socio-economic development, improve the quality of people's life and foster the sustainable growth of the country.
As per the project, the target for 2021 is 182 million trees, with an average of 204.5 million trees to be planted each year in the 2022-2025 period.
The Ministry of Agriculture and Rural Development has been tasked to be in charge of the work and cooperate with the Ministry of Construction, the Ministry of Natural Resource and Environment, and authorities of centrally-run provinces and cities to build related annual and five-year plans./.
Dang Thi Ngoc Thinh relieved from position of State Vice President
The National Assembly (NA) cast secret ballots to relieve Dang Thi Ngoc Thinh from the position of State Vice President in the 2016 – 2021 tenure on April 6 morning as part of its 11th session in Hanoi.
After the voting results were announced, 451 out of the 452 deputies present at the sitting, equivalent to 93.96 percent of the total number of legislators, approved a resolution on relieving Thinh from the position.
Later, the NA heard State President Nguyen Xuan Phuc presenting a nomination list for the legislature to elect the State Vice President.
Participating deputies then discussed in groups the candidacy for the post of State Vice President./.
Red maple trees to be removed from Hanoi streets
Authorities in Hanoi are going to replace dying red maple trees on some local streets.
Vice chairman of the municipal people's committee, Duong Duc Tuan has just agreed with the proposal from the Department of Construction to replace the red maple trees which have been planted on Nguyen Chi Thanh and Tran Duy Hung streets.
According to a report from the Construction Department, the pilot plantation of over 260 red maple trees which were donated by a local firm were carried out in 2018. 119 trees were planted on Nguyen Chi Thanh Street and 143 others on Tran Duy Hung Street.
"The trees have not grown well over the past two years due to unsuitable climate," the report said. "45 trees have died."
The department has suggested replacing the maple trees with the Ivory Coast almond trees on these two streets, which can be carried out this month.
Construction on Phan Thiet Airport begins
A ceremony to kick-start a project to build Phan Thiet Airport in the south central coastal province of Binh Thuan was held on April 5.
In accordance with the aviation transport development plan until 2020, with a view to 2030, Phan Thiet will be an aerodrome with a reference code 4E, which will be used for military and civil purposes.
It will receive international flights with a runway and a terminal having a design capacity of 2 million passengers per year, along with serving military and national defence purposes, contributing to the socio-economic development of the province and the region at large.
Addressing the event, Deputy Minister of Defence Sen. Lieu. Gen Tran Don asked the Air Defence – Air Force to ensure progress and quality of the construction and devise measures to implement tasks synchronously, firstly in unexploded ordnance disposal and land clearance.
Agencies under the Ministry of Defence are responsible for steering the Air Defence – Air Force in the implementation of the project./.
National insurance database to be launched on June 1
The Government has recently issued Decree No.43/2021 regulating the national insurance database which will be launched on June 1.
The database covers social, health, unemployment insurance as well as medical and social security information to ensure citizens' rights and interests.
It is available for individuals and organisations nationwide to access the latest and correct insurance information, thus meeting requirements for socio-economic development.
It also stores basic information about individuals, households and employers.
The Vietnam Social Security (VSS) is responsible for building, updating, maintaining, tapping and managing the database. It will also work with ministries and agencies to collect and update information in the database.
The connection and sharing of information with the database must ensure State, family and personal confidentiality./.
President Putin congratulates newly-elected President Nguyen Xuan Phuc
Russian President Vladimir Putin on April 5 sent a message of congratulation to Nguyen Xuan Phuc on his election as State President of Vietnam at the ongoing National Assembly session in Hanoi.
He highlighted the positive development of the traditional longstanding friendship and cooperative relations between Russia and Vietnam on the basis of mutual respect.
"I believe that, through joint efforts, we will ensure the continued development of our strategic bilateral relationship as well as mutually beneficial cooperation in many different fields. This will obviously satisfy the basic interests of the Russian and Vietnamese people, while enhancing stability and security in the Asia-Pacific region," President Putin wrote in a telegram.
He wished President Phuc good health, happiness and numerous achievements in his new position as Head of state.
Nguyen Xuan Phuc was elected President of Vietnam by the National Assembly at its ongoing session in Hanoi on April 5.
Writing contest about Poland launched in Vietnam
The Polish Embassy in Vietnam has launched a writing contest for this year, aiming to encourage Vietnamese people to learn more about the cultures of Poland as well as the Czech Republic, Hungary and Slovakia in the Group 4 (Visegrad).
Each piece of writing must be at least 1,000 words long and it can also include photos or videos.
Winners of the contest are scheduled to be announced in late June this year. The winner of the contest's first prize will receive a cash prize of US$2,000, followed by second and third prizes of US$1,500 and US$1,000, respectively.
In addition, a further five consolation prizes of US$100 each will also be delivered.
The Wikipedia contest was originally launched in 2019, attracting roughly 2,000 entries, and the winner was given a free seven-day tour of Poland.
Last year witnessed the contest draw twice the number of entrants compared to the previous year.
Repatriation flights from South Korea to Vietnam resumed
Repatriation flights for Vietnamese workers in South Korea will be resumed from April 22.
According to the Centre of Overseas Labour, Vietnamese people in South Korea including workers with expired contracts can go to the websites of the Vietnamese Embassy in South Korea to register for a repatriation flight on April 21, 2020. However, some people submitted their registration forms too many times and caused some difficulties in the calculation and flight arrangement process.
As a result, the embassy has provided a new link for registration which will be used for flights that operate from April 22.
The embassy also warns that each person should only submit one registration form. If they submit too many registration forms, the embassy will use the forms with the latest date which may put them behind the queue.
If someone wants to change mobile phone numbers or e-mail address, they can use the code provided on the online form.
Users must take all responsibility for their information. Guest workers that are under the Employment Permit System must clearly declare other information.
Trial of ex-minister Vu Huy Hoang to re-open on April 22
The Hanoi People's Court will reopen a trial for ex-minister of industry and trade Vu Huy Hoang and nine accomplices on April 22 for violations at the ministry and in Ho Chi Minh City that caused losses of over 2.7 trillion VND (112.5 million USD).
The first-instance trial was first held on January 7. However, it was delayed due to the absence of three defendants and many other people whose rights and obligations are associated with the case. The trial was held again on January 18 but suspended again for the same reason.
Hoang, born in 1953, and Phan Chi Dung, born in 1957 and the former Director of the Light Industry Department at the Ministry of Industry and Trade (MoIT), were charged of "violating regulations on the management and use of State assets, causing losses and wastefulness".
The eight other defendants, who are former HCM City officials, including former Vice Chairman of the municipal People's Committee Nguyen Huu Tin, were accused of "violating regulations on land management".
The trial is scheduled to last until April 29.
According to the indictment from the Supreme People's Procuracy, the Saigon Beer – Alcohol – Beverage JSC (Sabeco), which is under the MoIT's management, was given more than 6,000 sq.m in downtown HCM City for production and business purposes.
However, Hoang, former Deputy Minister Ho Thi Kim Thoa, and Dung directed subordinates at the ministry and Sabeco to carry out procedures for using land use rights and Sabeco's money as capital contributions to set up Sabeco Pearl, a joint venture between the firm and a number of private enterprises, to implement a project building a hotel, a trade and convention centre, and office space for lease on the land.
After Sabeco completed legal procedures for the joint venture's investment and proposed the HCM City People's Committee approve the addition of officetel and housing functions to this project, the MoIT ordered the company to transfer all of Sabeco's stake in this project to the private enterprises in the joint venture.
This was illegal and resulted in a loss some 112.5 million USD to the State, according to the indictment.
Another of the accused, Ho Thi Kim Thoa, has fled, and the investigation police agency has put her on the wanted list./.
No COVID-19 infections logged on April 6 morning
Vietnam documented no new COVID-19 cases in the past 12 hours as of 6:00 am on April 6, making the nation's tally unchanged at 2,637, according to the Ministry of Health.
Of the total infections, 1,603 were domestically-transmitted cases, including 910 recorded since the latest outbreak hit the northern province of Hai Duong on January 27.
A total 27,478 people who came in close contact with COVID-19 patients or arrived from pandemic-hit areas are under quarantine nationwide, including 498 at hospitals, 18,870 at other quarantine sites, and 8,110 at home.
Among patients under treatment, 17 have tested negative for SARS-CoV-2 once, 9 twice, and 16 thrice.
The Treatment Sub-committee under the National Steering Committee for COVID-19 Prevention and Control reported that Vietnam has seen 2,416 recoveries so far.
The health ministry said that additional 455 Vietnamese got COVID-19 vaccine shots on April 5. As of 4:00 pm on the day, 52,868 frontline workers in 19 provinces and cities nationwide were vaccinated.
In a bid to live safely with the pandemic, people should strictly follow the Ministry of Health's 5K message: khau trang (facemask), khu khuan (disinfection), khoang cach (distance), khong tu tap (no gathering), and khai bao y te (health declaration)./.
Party chief holds phone talks with Russian President
Party General Secretary Nguyen Phu Trong held phone talks with Russian President Vladimir Putin on April 5, during which the leaders informed each other about recent major affairs and achievements of the two nations.
Trong told Putin about the outcomes of the Communist Party of Vietnam (CPV)'s 13th National Congress, Vietnam's progress after 35 years of national reform, as well as the country's visions, targets and orientations for future development, among others.
Expressing his gratitude toward Russia's support for Vietnam, the Party leader stated the Vietnamese Party and State always value the traditional friendship and comprehensive strategic partnership with Russia. He hoped the bilateral ties to grow fruitfully for the sake of the two countries' people in contribution to regional and global peace and development.
For his part, Putin congratulated Trong on his re-election as General Secretary of the CPV Central Committee for the 13th tenure and Nguyen Xuan Phuc on his election as State President of Vietnam.
Both leaders stressed that the Vietnam – Russia relations have been thriving in almost all fields and that the sides will continue taking specific measures to foster their cooperation in security, defence, energy, oil & gas, economy, trade, education and training, and tourism.
They laid special emphasis on further collaboration in COVID-19 prevention and control via mutual support regarding vaccine research and production.
The leaders shared a common stance on the need of building healthy international relationships of mutual respect, friendship, equality, mutually beneficial cooperation; and settling disagreements through dialogues and peaceful measures in the current international context.
The Vietnamese Party chief took the occasion to invite Putin to officially visit Vietnam this year and attend the closing ceremony of the Vietnam Year in Russia and the Russia Year in Vietnam. The Russian President accepted the invitation with pleasure.
Hanoi police bust cigar smuggling ring
The police in Hanoi has worked with related agencies to bust a cigar smuggling ring in which a flight attendant was arrested carrying over 100kg of cigars into Hanoi.
Police in late March were informed that flight attendant Nguyen Hai Son had smuggled a large number of cigars via Tan Son Nhat Airport. Son also bought the cigars from Nguyen The Nam from Thu Duc District to sell in Hanoi.
The police quickly carried out a search and found 71,315kg of cigars worth VND2bn in Hanoi. Most of the cigars were hidden at Son's relatives in Hanoi. Son was detained for smuggling. After four months of investigation, they were able to identify Son as the ring leader of a cigar smuggling ring. Son was unable to provide any legal papers and invoices during the raid.
The investigation was expanded and Nam was detained. 1,745 cigars were also found at Nam's house.
The authorities have started to prosecute Son and continue to expand the case.
All fishing ships in Binh Dinh must obtain food safety certificates by end of June
All fishing ships in Bình Định must obtain food safety certificates by the end of June as part of efforts to enhance the quality of fishery products caught by the south-central province's fishing fleet, according to a local agricultural official.
The province has been accelerating a campaign to raise local fishermen's awareness about their responsibility to abide by the Law on Fishery and persuade shipowners into signing a commitment to not encroach on foreign waters, said Trần Văn Phúc, Director of the provincial Department of Agriculture and Rural Development.
These moves are intended to implement the European Commission (EC)'s recommendations to combat illegal, unreported and unregulated (IUU) fishing practice to have the EC's "yellow card" on Việt Nam's seafood lifted, Phúc said.
In the first quarter of 2021, the provincial Fisheries Department granted more than 160 food safety certificates to fishing vessels with a length of 15 metres or more that have been licensed to operate offshore. So far, more than 2,800 out of 3,200 offshore fishing vessels in the province have received the certificate.
The department has streamlined procedures to cut time to get the food safety certificates in accordance with current regulations. Now it only takes a day for a food safety certificate to be issued, instead of three days as before, deputy director of the department Nguyễn Công Bình said.
There are nearly 400 boats of 15 metres or more in length without a food safety certificate in Bình Định, most of which fish offshore and dock to sell their catches in ports outside the province.
The sub-department plans to send officials to neighbouring coastal provinces to check the status of these ships and request them to obtain food safety certificates.
Tragic accident inspires young woman to set up blood donation club
A blood donation club launched by a teenager has been joined by many young people eager to save lives in the Central Highlands province of Kon Tum.
Nguyễn Thị Thảo Nguyên, 19, head of the club, from Kon Tum City, has donated blood many times and wants more people to join the club to save more lives.
Her mother died after being given 23 units of blood in a terrible accident many years ago.
"The sad memory was in my mind. Since then, I have wanted to donate my blood to help others like others did to try and save my mother," said Nguyên.
"I first got involved in blood donation when I saw a call from my friends on a social network. I am very afraid of needles. I tried to overcome my fear and rushed to the hospital to help people in urgent need," she said.
After the first successful blood donation, she has kept going to the hospital to donate blood.
At first, Nguyên and three other friends set up a group to be ready to give blood whenever a local hospital needs it.
She also started encouraging more young people in Kon Tum Province to donate blood to save lives.
In July 2019, she and 14 other members established a blood donation club of volunteers.
Her club has more than 1,000 members, aged 18-60, participating in blood donation with the motto 'Donate blood for passion – Give blood when you can'.
Nguyễn Quốc Huy, a club's member, said they often joked that Nguyên was addicted to donating blood.
"The members of the club respect and love her very much and are ready to join hands to create practical activities for society," said Huy.
Lê Thị Kim Linh, head of Department of Hematology – Blood Transfusion, General Hospital of Kon Tum Province, said there were always unexpected cases with a need for urgent blood transfusion and the blood donors of the club had saved many lives.
The blood donation club has donated more than 1,500 units of blood in two years of operation.
Many patients have recovered from critical situations and returned to their families thanks to the donors.
Eight people who received blood from Nguyên even joined the club after recovering.
In addition to blood donation, the club also organises other activities like helping children in difficult circumstances, supporting people affected by floods and storms and planting trees in landslide-hit areas.
Recently, the club started building a new house for a poor family that lost their house in a fire, at a cost of VNĐ110 million.
The club members have also helped a lot of people in need of blood in the three provinces of Gia Lai, Quảng Nam and Quảng Ngãi, encouraging more people to work together for the community.
Nguyên said the club would continue to carry out many other meaningful activities to contribute to the local community.
Tonnes of fish found dead at HCM City lakes
A large number of fish have been found dead in HCM City lakes and canals over the recent days.
According to the HCM City Department of Fisheries, by midday of Sunday, around 14 tonnes of dead fish in Nhieu Loc-Thi Nghe Canal were collected.
Meanwhile, roughly two tonnes of dead fish were also gathered at a lake at Ehome 3 residential area in Binh Tan District's An Lac Ward.
The heavy rain on April 2-4 is seen as among the causes of the fish deaths, HCM City Department of Fisheries said. The department explained that the rainwater swept litter from drains into the lakes.
The rainwater has also stirred the mud layer in the lakes, worsening the pollution.
The break of a dyke in the middle of the lake linked to a nearby drain has been partially attributed to the worst pollution which has killed the fish.
The majority of the fish at the lake in Ehome 3 residential area were released by local residents.
The dead fish have created a bad odour for surrounding areas.
Ba Ria-Vung Tau Province to provide support for struggling fishermen
Despite many advances in the Bà Rịa-Vũng Tàu fisheries sector in recent years like increased vessel capacity, reduction in near-shore fishing and general compliance with fishing regulations, high fuel prices and labour shortages remain a problem for fishermen.
In Xuyên Mộc District, for example, there are more than 500 boats and nearly 2,000 workers, but this year only 80 per cent of the boats has headed for the open sea.
Phạm Văn Ba, the owner of two vessels with a capacity of 600CV at Incomap fishing port (Vũng Tàu City), said that the number of fishes and shrimps in his first trip to head for the open sea increased by several tonnes compared to the same period last year. However, he makes little profit due to the high fuel prices.
Beside an increase of 15 to 20 per cent for fuel and food prices this year, Phạm Song, a fisherman, has to pay his employees their wages to boost their motivation for the next trips.
Hence, he hopes the State will add more policies to support for fishermen, Song, the owner of two fishing boats with a capacity of more than 400CV at Phước Tỉnh fishing port (Long Điền district), said.
The Department of Agriculture and Rural Development in Bà Rịa-Vũng Tàu is speeding up the process of compiling documents for offshore fishing boats. The department will seek the approval of Provincial People's Committee to maintain supporting fishing activities.
In addition to building a centre to support fishing activities, the province will rebuild policies to change inshore and destructive fishing to create jobs in line with fishermen's customs and experiences.
In 2020, Bà Rịa – Vũng Tàu People's Committee has provided local fishermen of 400 fishing boats with more than VNĐ60 billion (US$2.6 million) to support their offshore fishing activities.
Members of national men's football team receive COVID-19 vaccinations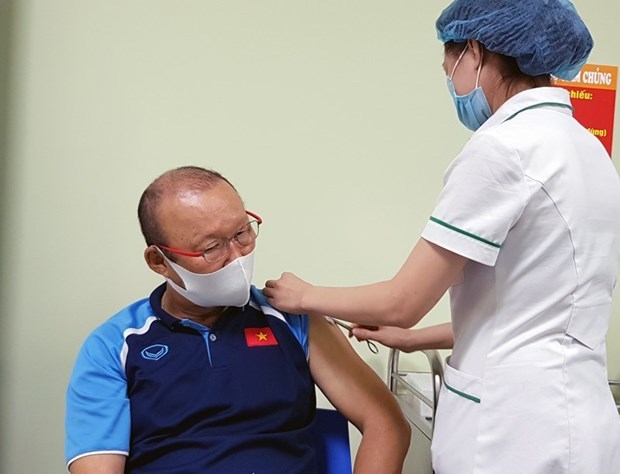 Head coach Park Hang-seo receives COVID-19 vaccination on April 5
In addition to national teams set to compete at international tournaments to secure berths at the Tokyo Olympics, the men's football squad was also inoculated in preparation for upcoming matches in Group G of the 2022 FIFA World Cup qualifiers, according to the Vietnam Football Federation (VFF).
The games will be played in the United Arab Emirates (UAE). Vietnam will play Indonesia on June 7, Malaysia four days later, and then wrap up the qualifiers with a game against the hosts UAE on June 15.
The vaccination drive for the footballers will be held in five phases, with the last being on April 17.
The men's football squad is set to gather in mid-May, with 34 players.
Vietnam currently tops Group G with 11 points, followed by Malaysia with nine and Thailand with eight. The UAE has six points, while Indonesia is yet to pick up any.
The Vietnam Sports Administration recently announced that more than 300 athletes will receive COVID-19 vaccine shots this month./.
Gia Lai Province fights back against illegal forest destruction
Forests in Chư Pưh District in the Central Highlands province of Gia Lai are facing a high risk of illegal forest destruction.
To minimise deforestation, local authorities have assigned new forestland to local people under contracts signed between the Forest Protection Department and households.
Phạm Văn Đạo, head of Chư Pưh District's Forest Protection Department, said mostly ethnic minorities households in the district had registered to protect the forest.
Local people are also encouraged to detect and prevent forest protection violations.
"The allocation of forests like this is very practical because the forest areas have been strictly protected by local people," Đạo said.
"All destruction of forests is promptly detected and prevented by the local people and authorities are promptly notified for timely handling."
A total of 43 households in the district's Ia Phang Commune registered to protect nearly 500ha of forests last year, according to the department.
Chư Pưh District's Forest Protection Department has worked closely with local authorities to patrol to prevent logging and timber transportation.
Rah Lan Phu, Head of Forest Protection Team of Ia Ke Village, Ia Phang Commune, said households were excited to help protect the forest.
"Through forest protection contracts signed with authorities, local people have more income and enjoy practical benefits from the forest," he said.
Ia Phang Commune is one locality performing well in growing and protecting forests through advocacy.
Chairman of Ia Phang Commune People's Committee, Trần Hoàng, said communal forest rangers regularly run patrols with community teams to prevent damage to the forest.
The commune holds meetings every week in villages to encourage people not to fell trees for cultivation and to plant new trees on deforested lands.
Chư Pưh District currently has more than 21,000ha of forest in six communes, of which the natural forest is nearly 12,000ha, the plantation forest is more than 1,600ha, mainly rubber, acacia and eucalyptus trees, and the rest is protective forest.
The forest area is not concentrated due to the complex topography, so managing and protecting the forest can be tough.
To deal with this situation, the district Forest Protection Department has sent eight forest rangers to six communes to assist local authorities in building community teams responsible for forest management and preventing forest fires.
Thirteen grassroots forest fire prevention teams and nine community groups for patrolling the forest have attracted 900 members.
The number of forest violations in the district has been significantly reduced.
In 2020, Chư Pưh District authorities saw 40 cases of forest law violations, down by eight cases compared to 2019.
The province's Forest Protection Sub-department has petitioned the Government to increase the fees paid to ethnic minority households for forest protection.
Gia Lai wants to increase its forest coverage rate to 47.5 per cent by 2025.
VN National University Ho Chi Minh City researchers make COVID-19 prevention, control products
Students and scientists at the Việt Nam National University – Hồ Chí Minh City (VNUHCM) have carried out extensive research and developed products that help prevent the spread of COVID-19.
Out of 2,000 projects from 79 countries, one on producing protein from Ecoli bacteria in laboratories by a student team from the University of Science won sponsorship from the Agence Universitaire de La Francophonie – a society of universities offering training in the French language.
Firstly, they collaborated with a company in the bio-technology industry to carry out the project under Dr. Nguyễn Thuỵ Vy, head of the genetics department at the university's biology and bio-technology faculty. The research was prompted by the fact that asymptomatic COVID patients and those with mild symptoms were believed to be a hurdle to control the pandemic in the community.
To detect infection, many countries use antibody tests. The advantages of this method are that it is fast, easy to deploy on a large scale and has great accuracy. However, Việt Nam does not have suppliers of SARS‐CoV‐2 viral protein antigens, making it difficult for companies to seek for manufacturing antibody testing kits. Dr Vy said: "We use a technology to produce protein from Ecoli bacteria at low cost. Around the world, most proteins are produced from animal tissue." Vy and two students, Lê Trần Đăng Khôi and Võ Hồ Mỹ Phúc began the research in early June with sponsorship from AUF and they created products within three months.
"The project does not only contribute to COVID-19 prevention but also inspires other students to take up research. The product is useful for COVID-19 tests with fast, accurate results and affordable prices."
The VNUHCM's National Key Laboratory of Digital Control and System Engineering's scientists also made an automatic chamber for disinfection and obtaining samples from patients without making contact.
The chamber disinfects automatically before the next person enters for giving samples. Though ultraviolet disinfection technology is used, the UV rays do not directly touch peoples' bodies and so are not harmful to health officials or patients. Moreover, the high-efficiency particulate air filter technology combines with UV to completely kill viruses and bacteria remaining in the air after being sucked out of the chamber.
Another VNUHCM's member university, the University of Technology, has innovated dozens of useful and convenient products to serve the community in terms of COVID-19 prevention and containment.
Scientists at the Bách Khoa Research Centre for Manufacturing Engineering at the University of Technology have also made a mobile disinfection system with air filters to ensure clean air is discharged in the environment. The technology has been transferred to companies for commercialisation and mass production.
A research team at the University of Technology's material technology faculty has made masks that could be used by healthcare workers for continuous hours.
Assoc. Prof. Dr. Huỳnh Đại Phú, the faculty dean, said when COVID-19 broke out, one urgent issue was a shortage of medical equipment. Healthcare workers faced a high risk of infection because of working for many hours in an environment without negative pressure chamber. It was very important for them to use preventive clothes, goggles and masks to prevent the risk of contracting the virus, and his team made these masks with a bacteria and air filter membrane to avoid infection, Phú said.
The medical workers at Trưng Vương Hospital are using them.
One of VNUHCM's strategies is to continue focusing on scientific and technological development and innovation to help implement national and southern region development strategies and to raise its international profile.
As of October 2020, it had filed 527 applications for patents and 566 technology transfer contracts and scientific services that fetched revenues of VNĐ104.2 billion (US$4,5 million).
Doctors in HCM City remove rare, life-threatening heart tumour
Doctors at Gia Định People's Hospital in HCM City have successfully removed a rare, life-threatening heart tumour in a 40-year-old patient.
The patient on March 31 was hospitalised at Gò Vấp District Hospital due to shortness of breath and chest pain. An echocardiography showed a tumour in his heart, which caused heart failure and severe anaemia.
The hospital sent the patient to Gia Định People's Hospital for urgent surgery. Doctors said the large tumour in both the left atrium and left ventricle was at risk of being stuck in the heart's valves.
The spread of the tumour had also caused mitral regurgitation, which the doctors treated.
Dr Bùi Minh Thành, head of cardiac surgery department at the Gia Định People's Hospital, said that most heart tumours cause no symptoms and are not located at the two valves. The patient's tumour was special, causing a sudden blockage of blood flow in the heart, which could lead to acute heart failure and, if not treated in time, death.
The patient is in stable condition.
Ninh Binh works to ensure safety for opening of National Tourism Year 2021
The organising board for the National Tourism Year 2021 of Ninh Binh province convened a meeting on April 5 to decide on the final plan and discuss related preparations for the opening ceremony slated for late April.
As hear at the meeting, the opening ceremony will take place at the national special heritage site of Hoa Lu ancient capital in Hoa Lu district's Truong Yen commune, on the evening of April 20. About 2,600 guests have been invited to attend the ceremony.
Addressing the meeting, Tong Quang Thin, Vice Chairman of the Ninh Binh People's Committee and deputy head of the organising board, asked for close coordination among sectors and localities involved and stepping up the communications work.
He also urged the relevant sectors to ensure security and social order, COVID-19 prevention and control, and food safety during the event.
Ninh Binh planned to organise 11 major and 27 others activities in the National Tourism Year 2021, themed "Hoa Lu – Thousand-year-old Capital".
The Ministry of Culture, Sport and Tourism and 27 localities nationwide were set to hold two major and 103 events in response to the National Tourism Year 2021. However, many of these activities have been canceled, postponed, or scaled down due to complex developments of COVID-19.
Located in the southern reaches of the Red River Delta, Ninh Binh is known for its wondrous natural scenery, with a labyrinth of waterways, mountains, and plains as well as cross-cultural influences from the north to the south and from the mountains to the plains and coastal areas. It is home to 1,821 relic areas, including 81 national relic sites and a world cultural and natural heritage site./.
Supporting youth in start-up movement
Young people have many start-up ideas but lack the capital and business experience to turn them into reality. In recent years, the Provincial Youth Union and the Youth Union of Nam Dinh province have implemented a range of flexible and innovative measures to help union members and young people establish a career and create jobs for local people.
In 2017, thanks to support from the Youth Union of Nam Dinh province, he borrowed nearly 100 million VND from the National Fund to expand production and create a variety of products.
He now posts profits in the billions of VND each year, creating regular jobs for 40 local people and planning to further expand in the future.
The Youth Union of Nam Dinh province recently coordinated with bank branches in the area to set up groups to support young people in borrowing capital to develop their production.
As of the end of 2020, there were over 5,500 union members, and young people in Nam Dinh were allowed to borrow capital for production and business, with a total of over 175 billion VND made available./.
Addicts in Dien Bien get better access to methadone treatment
Opioid addicts will be able to pick up several days supply of methadone for use at home after an event that was held yesterday in the northern mountainous province of Điện Biên.
The event was held by the Việt Nam Administration of HIV/AIDS Control (VAAC) under the Ministry of Health (MoH), the World Health Organization (WHO) in Việt Nam and the provincial Department of Health.
The MoH said methadone has been used to treat opioid addicts in Việt Nam since 2008.
Currently, more than 52,000 people receiving methadone treatment in 330 treatment facilities in all 63 provinces and cities.
The coverage of the programme has reached 28 per cent of the total number of addicts, with the six-month period for medicine adherence rate at 83 per cent, above the world average of is 80 per cent.
Điện Biên Province has recorded more than 9,000 drug addicts and currently, more than 2,400 are undergoing methadone treatment at the province's 35 methadone dispensing facilities.
Hoàng Đình Cảnh, deputy director of the VAAC, said after more than 12 years of implementation, the treatment of opioid addiction with methadone has revealed a number of limitations.
They included low access to treatment and very different regional adherence to treatment. The rate of treatment dropout accounts for more than 50 per cent, mostly in mountainous provinces.
One of the main reasons leading to discontinuation of treatment is patients having to receive treatment at a medical facility.
To tackle the problem, different countries around the world have allowed some patients to bring methadone to use at home.
Providing patients with methadone for many days will reduce travel time, travel-related costs and create favourable conditions for patients to access, maintain and comply with treatment.
This helps to improve treatment for patients, improve quality of life and increase patient and family satisfaction with methadone treatment facilities.
Cảnh said Điện Biên was one of three localities, along with Lai Châu and Hải Phòng City, to run the pilot programme, because Điện Biên was a mountainous province which is difficult to travel in.
Many patients have to travel tens of kilometres to get to treatment facilities for their daily medicine. Methadone dispensing points have been deployed in some commune health stations but still cannot meet the needs of patients because the villages are too far away and the roads to medical facilities and dispensers are very high in mountainous areas.
This is also a very active locality that has achieved good results in methadone treatment in recent years.
The successful pilot implementation of this programme in the three localities would serve as the basis for a nationwide expansion, he said.
Egyptian media highly evaluates Vietnam's new leadership
A number of Egyptian newspapers on April 5 ran articles on Vietnam's new leadership which, they said, will contribute to consolidating the relations between the two countries.
An article published on Eldyar e-newspaper said former Prime Minister Nguyen Xuan Phuc has been elected State President of Vietnam, while Politburo member of the 13th tenure and head of the Party Central Committee's Organisation Commission Pham Minh Chinh was elected PM.
Sayed Badry and Mohamed Al-Saeed, co-authors of the article, lauded Vietnam's success in completing the dual goals of containing the COVID-19 pandemic and promoting socio-economic development last year.
They believed that the bilateral relations will be further enhanced in the time ahead, with two-way trade expected to double last year's figure to 1 billion USD soon.
The same day, Events Magazine News e-newspaper said President Phuc made imprints while serving as PM during the 2016-2020 period.
Author Ahmed Hassan highlighted Vietnam's achievements last year, saying it is the only country among the six biggest economies in Southeast Asia to post a positive growth rate of 2.19 percent.
Its gross domestic product (GDP) exceeded 340 billion USD, ranking fourth in the Association of Southeast Asian Nations (ASEAN) and 37th worldwide, the article said.
The article applauded the Government's role in streamlining administrative procedures and creating optimal business conditions to tap resources for socio-economic development.
Hassan also expressed his belief that newly-elected PM Chinh will lead the Vietnamese Government to overcome difficulties and challenges so as to outstandingly complete strategic targets set for the next five years.
Vietnam's senior leaders have demonstrated their solidarity in efforts to create breakthrough reforms, creating a foundation for the country to make miracle steps in national development in the next decades, according to the article./.
E-health declaration compulsory for all air passengers: CAAV
All airlines must ensure that their passengers complete electronic health declarations before boarding at all airports nationwide, according to the Civil Aviation Authority of Vietnam (CAAV).
This is part of the efforts to prevent the spread of the COVID-19 pandemic.
According to its documents recently sent to competent authorities, the CAAV said that without e-health declaration, passengers will be denied to fly, while airlines which fail to follow the regulation will have to bear legal responsibility.
In a document recently sent to competent authorities, the CAAV required airlines to instruct their passengers fulfill the health declaration at https://tokhaiyte.vn or through the Vietnam Health Declaration application.
Besides, airlines should arrange staff at check-in kiosks at terminals to support passengers in the e-health declaration procedure.
They should join hands with airports nationwide to inform passengers of the mandatory declaration through passenger information systems, posters and panels at easy-to-see places in airports.
Earlier, many passengers failed to make e-health declaration before coming to the security screening checkpoints at Noi Bai International Airport.
On March 30, 1,447 passengers did not fulfill e-health declaration, while the number recorded on March 31 was 712. About 80 percent of them completed check-in procedures via website and at kiosks./.
Singapore think tank highly evaluates Vietnam's new leadership
The S. Rajaratnam School of International Studies (RSIS) has recently published an article delving into what freshly elected Vietnamese leaders are going to contribute to the nation's future development.
In his article, the author Yang Razali Kassim – a senior fellow at the RSIS – said the new leadership marks a combination of experience and freshness, a suitable formula for Vietnam's planned transition towards a socialist-oriented developed status by 2045.
He assumed that Party General Secretary Nguyen Phu Trong will continue to oversee the strengthening of the Party building work and the fight against corruption where his success has been proven. Meanwhile, President Nguyen Xuan Phuc will leverage on his experience as prime minister to expand and strengthen Vietnam's relations with other countries.
According to the article, Prime Minister Pham Minh Chinh, whose decisiveness is seen as a quality needed for a head of the Government. He will have the unenviable task of steering the country towards the dual goal of rolling back and containing the pandemic while maintaining and promoting economic growth.
The author also talked about Vietnam's foreign policy under the new team, noting the likeliness of the strategy of "openness, multilateralisation and diversification". International economic integration will continue with more free trade agreements (FTAs) being signed, thereby creating new impetus for the nation's economic recovery.
He stated Vietnam's diplomatic foray will continue to deepen following its chairmanship of ASEAN in 2020 while its entry into the UN Security Council as a non-permanent member for one year has raised its voice on the global stage.
By the end of the NA elections on April 8, the new Vietnamese core leadership will be ready to take over and will steer Vietnam towards a more prominent regional role, said the article./.
Congratulations on 25th anniversary of Vietnam-Ireland diplomatic relations
State President Nguyen Xuan Phuc has cabled a congratulatory message to Irish President Michael Daniel Higgins on the occasion of the 25th founding anniversary of Vietnam-Ireland diplomatic ties (April 5, 1996 – 2021).
Meanwhile, Prime Minister Pham Minh Chinh sent his congratulations to his Irish counterpart Micheál Martin.
Deputy Prime Minister and Minister of Foreign Affairs Pham Binh Minh also cabled a congratulatory message to Deputy Prime Minister and Minister for Foreign Affairs and Trade of Ireland Simon Coveney./.
Vietnam records six new imported COVID-19 cases, 33 recoveries
Vietnam recorded six new imported COVID-19 cases, including five Vietnamese citizens and an Indian expert, in the past 12 hours to 6pm on April 5, the Ministry of Health (MoH) said.
The new patients brought the total number of infections detected in the country to 2,637, including 1,603 domestically-transmitted cases.
According to the MoH's Medical Service Administration, an additional 33 patients have been given the all-clear from coronavirus SARS-CoV-2, raising the total number of recoveries to 2,416, while the death toll related to the disease remained at 35.
Among active patients undergoing treatment at medical establishments across the country, 17 tested negative to the virus once, nine twice and 16 others thrice.
As many as 27,478 people who had close contact with COVID-19 patients or entered Vietnam from pandemic-hit regions are currently quarantined nationwide, including 498 in hospitals, 18,870 in state-designated establishments and 8,110 others at their residences.
To live safely with the pandemic, the Ministry of Health advised people to remain proactive in pandemic prevention and control by continuing to wear face masks when going out, disinfecting frequently, maintaining a safe distance, refraining from mass gatherings, and making medical declarations./.
Schoolboy overcomes hardship to excel academically
Phạm Văn Thông was born in a uniquely challenged family, as his father suffers an intellectual disability and his mother has a history of epilepsy.
Living in a downgraded house in a small village in northern Hưng Yên Province, Thông and his little sister usually faced a shortage of food due to his parents' illness.
Difficulties never hindered the boy from his eagerness to study. In 2020, Thông passed the entrance exam to the province's gifted school. He is now one of the members of the school team entering the national excellent student exam in maths for the 2020-2021 academic year.
"I still want to be born in this family"
Hoàng Thị Quy suffers from epilepsy and Phạm Văn Hinh has an intellectual disability. They were in the same village in Dị Chế Commune in Tiên Lữ District and decided to live together to share their burdens in life.
Quy gave birth to two children. During their childhood, the two children played together and Thông took care of his sister when he grew older. The whole family depended on the 2,500 square-metre rice and vegetable field and some additional income from making bamboo curtains.
"Our children didn't have milk like others. They only lived on powder and rice water," she told the online newspaper vietnamnet.vn.
When Thông turned six, Quy sent Thông to school. The boy immediately loved to study and would get up early to prepare breakfast and lunch for the whole family before going to school.
In secondary school, Thông stayed up until midnight to complete his homework. He spent most of the day helping his parents in the rice fields so that they could earn enough money for food.
Quy said she wished many times that Thông could have been born to a better family.
"But he replied 'I still want to be born in this family'", she said.
Quy said she initially didn't want to let Thông register for the gifted school as it took him an hour to ride his bike to the school.
But the boy insisted as studying at the gifted school was his dream.
"My first time entering the Hưng Yên Gifted School was when I joined the district level excellent student exam two years ago. This was the most memorable exam as I could sit in the classroom of my all-time favourite school," he said.
Thông has had 10 years of excellent performance at school and excels at maths.
Thông said he received a lot of support from teachers and friends. The monthly allowance of VNĐ700,000 (US$28) would be a gift for him to focus on his study.
"I used to be afraid that my studies would become a burden for my parents, but now I've realised it would be a chance for me to make my dream come true," he said.
"I'll do my best to get the best result in the next national excellent student exam. I plan to become a doctor as I can help save patients and bring a better life for my parents. I do understand the feeling of those whose relatives have illness," he said.
Nine charged with allegedly beating up, burying alive young man
The police of Nghe An Province's Vinh City have filed charges against nine people for allegedly capturing, beating up and burying alive a 17-year-old boy.
The nine, aged from 17 to 31, comprise Nguyen Trong Duong, Ho Trong Khanh, Le Nguyen Hung, Nguyen Tien Nam, Tran Manh Tai, Vo Quang Hung, Hoang Quang Thanh, Phung Duy Ngoc Anh and Nguyen Dinh Huy, the local media reported.
Five other younger boys were also found to be involved in the case and the police are investigating their violations.
According to initial results of the police investigation, N.Q.V., a resident in Xuan An Town, Nghi Xuan Town, Ha Tinh Province, hired Duong's motorbike but did not return it. Therefore, Duong asked his henchmen to look for V.
On March 24, they found V. in Vinh City, so they captured and beat him and took off his clothes. The group later took V. to a nearby wasteland in Nghi Xuan District and continued beating him.
They dug a pit, covered V.'s head with a bag, tied his hands, pushed him into the pit and covered him with soil despite his pleading. A short period later, V. was pulled out of the pit and taken to a nearby river to bathe.
A video on the case, which was posted on social networks on March 26, has sparked public outrage.
Just three hours after the video was posted on social media, police detained 13 people and summoned the victim. The police later arrested Duong when he was hiding in Hanoi.
Many eateries in HCMC fined for food safety violations
The competent forces in HCMC have fined multiple restaurants and eateries for using food materials without a clear origin, violating safety conditions and operating without food safety certificates.
On April 5, the Food Safety Management Board of HCMC said that in March, the board discovered and fined 15 dirty food trading and manufacturing facilities, including eateries and restaurants.
Specifically, Duc Vinh Development and Investment Company in Thu Duc City's Long Thanh My Ward was found producing and processing food in a polluted environment, while their food was also stored in unhygienic conditions after being processed.
Due to its unsanitary operations, the firm was slapped with a fine of VND29 million, Motthegioi news site reported.
Besides, the competent forces found the walls, ceilings and floors of the production areas and warehouses owned by Vinh Thuan Trading Facility in Binh Tan District moldy and the facility using excessive food additives, so it was fined VND37 million and forced to demolish all food and food additives.
Similarly, Nguyen Nhu Binh Company in HCMC's outlying district of Binh Chanh received a fine of VND60 million for running its business without a food safety certificate. Further, the firm processed and produced food in an unhygienic environment, given the moldy walls, ceiling and floor of its trading and processing area and warehouse.
Apart from this, the competent forces also fined several others for food safety violations, including Bakar Company in Pham Ngu Lao Ward in District 1, Hai Di Lao Vietnam Holdings in Thu Duc City, Green Saigon Pure Drinking Water Company in Nha Be District and Bau Sen Trading Service Company in District 5.
Vietnam DX Day 2021 formally kicked off
Vietnam DX Day 2021, themed 'National Digital Transformation: Sharing and Linking', is expected to welcome 3,000 delegates nationwide from May 26-27 in Hanoi.
The program has four main parts of updating the latest trends in digital transformation, introducing effective digital transformation solutions, sharing experience of successful cases, and connecting partners in the digital transformation process.
Vietnam DX Day 2021 has 8 seminars especially for 8 key fields in the National Digital Transformation Program: finance-banking, healthcare, education, agriculture, transport-logistics, energy, natural resources-environment, and manufacturing-industry.
In addition, there will be 2 specially meetings focusing on digital transformation for small- and medium-scaled enterprises, promotion of digital startups in Vietnam.
Other activities held simultaneously include an exhibition for Vietnamese Digital Solution Platforms 2020, a program for supply-demand connection (Business-to-Business and Business-to-Government), an online conference to introduce Vietnamese digital solutions and platforms.
General Secretary of VINASA Nguyen Thi Thu Giang shared that the four major missions of her organization in the period from 2021-2025 are forming a technological ecosystem, developing platforms, focusing more on AI strategies, and building strong IT human resources.
When fulfilled, these missions can greatly contribute to speeding up the national digital transformation process. Vietnam DX Day 2021 is considered an essential annual activity to help achieve these goals.
Hotels and restaurants join in "No Smoking" campaign in Hanoi
Restaurants and hotels will build an image of a professional, civilized, and fresh environment for tourists.
The campaign, jointly launched by the Ministry of Health and the World Health Organization (WHO) office in Vietnam, aims to encourage restaurants and hotels to build up a smoke-free environment in the capital city.
Addressing the event held in Hanoi on April 3, WHO Representative in Vietnam Kidong Park said every year, eight million people died from cigarette smoking around the world.
In Vietnam, 15 million adults smoke while the number of people exposed to second-hand smoke is 75 million.
Cigarette smoking is responsible for the deaths of nearly 40,000 people each year in the country while around 6,000 people died from secondhand smoke, the WHO official said, urging an end to "the deaths of these blameless victims" of passive smoking.
"WHO called upon you to begin this with implementing smoke-free restaurants and hotels, which include simple acts such as placing "No Smoking" signs at visible areas of hotels and restaurants," the WHO representative told restaurant and hotel owners.
He also suggested that inspections from law enforcement units should be conducted more frequently to achieve better compliance.
For his part, Dr. Luong Ngoc Khue, head of the Medical Examination and Treatment Management Department under the Ministry of Health and director of the Vietnam Tobacco Control Fund fund stressed that building a smoke-free tourism environment is an effective way to ensure the rights of non-smokers to breathe fresh air.
It also helps reduce the risks of illnesses caused by exposure to tobacco smoke for the tourism sector's personnel and tourists, reduce direct and indirect medical costs for examinations and treatment of diseases related to smoking, Khue added.
"According to a 2020 study conducted by the Vietnam Tobacco Control Fund, the rate of secondhand smoking in these establishments remains high, with 80% of customers exposed to smoking in restaurants, and 65% in hotels," said the health official.
In her speech, Do Hong Xoan, deputy head of the Vietnam Tourism Association and Chairwoman of the Vietnam Hotel Association, highlighted the significance of this campaign for not only restaurants and hotels, but also for the community.
Xoan added that smoke-free environments, including restaurants and hotels, will build an image of a professional, civilized, and fresh environment for tourists and beneficial for the health of hospitality staff and customers. Such environment will surely attract more domestic and international tourists.
Joining the campaign is an effective way to enforce the Law on Prevention and Control of Tobacco Harms, Xoan affirmed.
After the launch, "No Smoking" signs were hung at the Hilton Hanoi Opera at 1 Le Thanh Tong street and San Fu Lou-Cantonese Kitchen at 6 Phan Chu Trinh street.
Source: VNA/VNS/VOV/VIR/SGT/Nhan Dan/Hanoitimes
VIETNAM NEWS HEADLINES APRIL 6 have 9247 words, post on vietnamnet.vn at April 6, 2021. This is cached page on ReZone. If you want remove this page, please contact us.