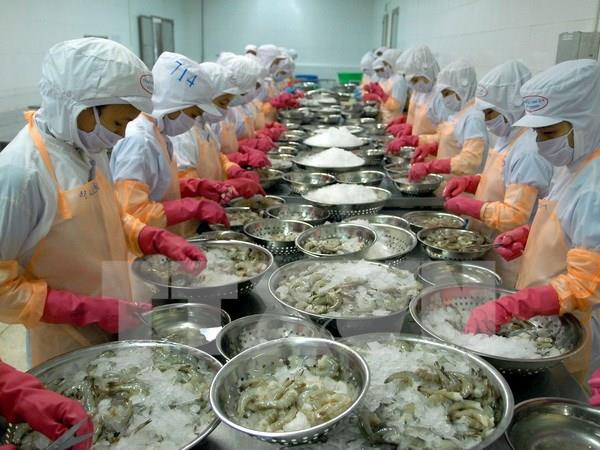 HCM CITY – Shrimp exports to South Korea are likely to increase by 5 per cent this year due to steady demand, high export prices and tariff incentives under a bilateral free trade deal, the Việt Nam Association of Seafood Exporters and Producers has said.
South Korea is the fifth largest importer of the crustacean from Việt Nam, and accounts for 10.7 per cent of the latter's total exports.
Though not increasing sharply this year, exports to South Korea have been in positive territory since the beginning of the year. Shipments in the first seven months have been worth US$179 million, a 5.8 per cent increase year-on-year.
In the second quarter they were worth US$91.2 million, up 4.9 per cent, with white-legged shrimp and tiger prawn accounting for 83 per cent and 12.1 per cent.
Under the Việt Nam-South Korea Free Trade Agreement, Việt Nam is exempt from import tax on shrimp in South Korea up to 15,000 tonnes a year. Việt Nam only ships around 2,500 tonnes.
To utilise the opportunity, experts said shrimp exporters need to improve quality and remain abreast of South Korea's procedures and requirements to overcome technical barriers.
Hồ Quốc Lực, chairman of shrimp exporter Fimex Việt Nam, said local authorities need to call for investment in building shrimp farms of international quality, build irrigation and other infrastructure and enable high-quality shrimp production.
Companies must ensure quality and comply strictly with all the terms in their contracts such as delivery time and packaging design, he said.
In recent years Việt Nam has been the leading shrimp supplier to South Korea, accounting for 52 per cent of that country's total imports.
The key export markets are Japan, the EU, South Korea, China, and the US.
According to VASEP, exports in the first five months of the year were up 2.3 per cent at $1.2 billion, with white leg shrimp and tiger prawn accounting for 69.5 per cent and 19.2 per cent. — VNS
Việt Nam shrimp exports to South Korea to edge up: VASEP have 423 words, post on vietnamnews.vn at August 24, 2020. This is cached page on ReZone. If you want remove this page, please contact us.