Hanoi to have five public parks of world standards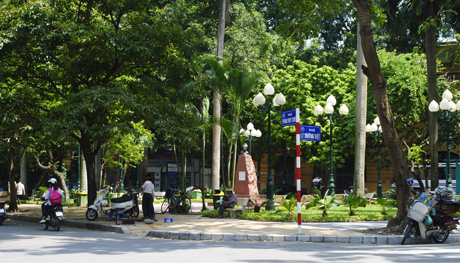 Hanoi will plant one million new trees and build and upgrade 25 public parks, five of which will meet world standards, said Chairman of the municipal People's Committee Nguyen Duc Chung at a reception for Danish Ambassador Charlotte Laursen on May 31.
At the meeting, Danish Ambassador to Vietnam Charlotte Laursen told Mr Chung about diverse activities in Hanoi to mark the 45th anniversary of Vietnam-Denmark diplomatic ties.
She said that in addition to the Danish businesses which are operating in Hanoi many others want to invest in the country in the field of renewable energy, particularly wind energy.
For his part, Mr Chung pledged to ensure security and closely work with the Danish embassy to realize the program successfully.
Hanoi has developed specific plans to attract foreign investors, especially those from Europe and accelerated administration reform to encourage investors in high-tech fields, he noted.
He stressed that Hanoi is particularly interested in using hi-tech in waste treatment and environment protection to ensure a sustainable living for its citizens.
He expressed his hope that the Ambassador will serve as a bridge to connect Vietnamese and Danish businesses and to help the city own state-of-the art technologies for the sake of building a civilized, modern, clean and beautiful capital city.
200-kilo bomb unearthed in southern Vietnam
Military officers in the southern province of Dong Thap have safely removed a bomb weighing around 200 kilograms from a local family's backyard.
The bomb was found on May 30 at more than one meter underground three days earlier, when the family had workers dig up their backyard to make a pond.
It was only several meters from their house.
Officers said the bomb might have been there since the Vietnam War, which ended more than 40 years ago.
Unexploded ordnance still threatens a fifth of land mass across Vietnam and explosions occur frequently.
Deputy Minister of Defense Nguyen Chi Vinh said last October that the explosions kill more than 1,500 people every year and maim and injure 2,200 more.
Worker dies at new Ghenh bridge construction site
A worker died yesterday morning while installing the spans at the Ghềnh Bridge in Biên Hòa City of southern Đồng Nai Province.
The victim, Phan Văn Thủy, 21, a native of central Nghệ An Province, was hit by a crane pulling up steel blocks at the scene. Due to his serious injuries he died on the spot.
The accident happened at an empty ground in Quyết Thắng Ward about 200mes from the bridge which is under construction.
According to Trần Tiến Đạt, Biên Hòa City's police head, the police are working with relevant agencies to probe into the accident. The victim's body was transferred to Đồng Nai General Hospital for further investigation.
The 112-year-old Ghềnh Bridge, across River Đồng Nai, collapsed after its pillar was rammed by a barge carrying 800 tonnes of sand on March 20 this year.
The collapse resulted in the interruption of railway services on the North-South railway line.
Construction work on the new bridge started in early April and will be finished this July. The width of the new bridge will be expanded by 2.4m to allow movement of motorcycles and bicycles.
HCM City pilots electricity-powered bus routes
Prime Minister Nguyễn Xuân Phúc has approved the opening of three unsubisidised routes for 12-seat electricity-powered buses for the next three years in HCM City.
The city's People's Committee is responsible for determining the bus schedules and specific routes.
Every six months, the city will submit evaluation reports of the pilot bus programme to the government.
Phúc has urged the Ministry of Transport to issue regulations to govern the electric-bus operations and instruct the committee on project implementation.
The city plans to use the electric buses in the central business district, Phú Mỹ Hưng Urban Area and Nhiêu Lộc – Thị Nghè Canal area.
Son La: Floods kill three people
Three people were killed following floods triggered by prolonged torrential rain from May 22-30 in the northern mountainous province of Son La.
The victims were Lo Thi Hong, 40 in Chieng Ly commune, Thuan Chau district; Ca Van Luon, 49, and Ca Thi Lanh, 47 from Muong E commune, Bac Yen district.
The floods also injured six others, and damaged local roads, houses and hundreds of hectares of crops and fish farming areas.
The local authorities have provided urgent aid for affected households to resettle their lives. They also instructed localities to strengthen supervision of reservoirs and accelerate the evacuation of local residents at high risks of landslides.
VNA presents gifts to AO victims in Quang Tri
The Vietnam News Agency (VNA) has presented a charity house and gifts, worth nearly 100 million VND (4,500 USD) to Agent Orange (AO) victims in the central province of Quang Tri.
The VNA's Fund for AO Victims in coordination with local authorities on May 31 handed 53 gift packages each worth 500,000 VND to AO victims in the province's Thieu Phong district.
The fund also provided a charity house to Nguyen Thi Viet, born in 1928 in Thanh Le village, Thieu Trung commune.
Currently, there are 15,845 AO victims in the province which ranks fourth in terms of the number of victims in the country. The donation is expected to help them and their families to cope with the difficulties in their lives.
Since its establishment in 2006, the Fund has provided over 50 charity houses, worth over 5.6 billion VND (252,000 USD) for disadvantaged families nationwide.
Vietnam, Cuba promote court cooperation
A delegation from the Cuban Supreme Procuracy, led by its Vice Procurator General Marlen Nidia Fernandes Machado paid a visit to Vietnam to enhance bilateral ties between the two nations' judiciary bodies.
On May 31, Marlen Nidia Fernandes Machado was received by Chief Judge of the Vietnam Supreme People's Court Nguyen Hoa Binh who believed that the visit contributes to strengthen the cooperation between the Vietnam Supreme People's Procuracy and its Cuban counterpart.
At the meeting, the officials updated each other on their respective law and judiciary reforms. They also expressed a wish to boost cooperation and delegation exchanges to share experience in judgement.
Vietnam attends Pacific international tourism expo
The Consulate General of Vietnam in Russia's Vladivostok city together with other foreign consulates general in Primorsky attended the Pacific International Tourism Expo (PITE) 2016 held in Vladivostok city in the end of May.
Organised by the Department of Tourism of Russia's Primorsky region, the expo, the largest local annual event, aims to provide a platform for the participants to promote culture and tourism, exchange tourism information while building joint tourism programmes.
The event drew the participation of 177 tourism businesses to present their products and services and welcomed more than 30,000 visitors.
With four exhibiting booths, Vietnam nudged the country's tourist attractions, elegant cuisine and socio-economic development closer to international friends.
At the event, Consul General Huynh Minh Chinh spoke highly of the role PITE plays while emphasizing the importance of tourism for the socio-economic development of the Far East region.
He noted that PITE 2016 opens new hope for regional tourism, adding that direct flights connecting Vladivostok and Vietnam is a highlight in the tourism and trade relations between the two nations.
Conference looks to promote Buddhist woodblocks' values
Orientations to promote the historical, cultural and religious values of the Buddhist woodblocks in Vinh Nghiem and Bo Da pagodas in the northern province of Bac Giang were discussed among experts at a conference held in the locality on May 31.
According to Dr. Nguyen Quoc Tuan, director of the Institute for Religious Studies, preservation of the woodblocks must be attached with a suitable repository, temperature and responsibility of the managers.
Workforces and financial resources should be added to the preservation work, he noted.
Meanwhile, Nguyen Minh Duc, from the Vietnam Institute of Culture and Arts Studies (VICAS), suggested a line-up of measures to promote the valuable antiques as a tourism product, including building an exhibition house, publishing the woodblocks' contents as souvenirs, providing courses on the woodblocks' contents and art, among others.
Another representative from the VICAS, Dr. Luong Hong Quang underscored that the development of a tourism model in Vinh Nghiem and Bo Da pagodas should go together with the safeguard of the woodblocks and the pagodas' values.
He laid stress on protecting the pagodas' traditional festivals and cultural relic sites as well as delivering labour training, while recommending connecting the pagodas with other tourist attractions in the province and neibouring localities.
Vinh Nghiem pagoda is storing 3,050 woodblocks carved with Buddhist Sutras, which were given UNESCO's World Documentary Heritage status. Meanwhile, nearly 2,000 woodblocks in Bo Da pagoda have great values in religion and culture.
Deputy PM aims to curb fraud, smuggling
No exceptions should be allowed in the fight against smuggling, trade fraud and counterfeit goods, Deputy Prime Minister Trương Hòa Bình said yesterday.
The deputy prime minister, while working with National Steering Committee 389 for Anti-Smuggling, Counterfeit Goods and Trade Fraud, of which he is also the head, pledged to take more resolute actions to strictly punish all violators, including Government officials who directly take part in or protect others engaged in smuggling, trade fraud and counterfeit goods.
Speaking at the working session, Bình said no areas should be off limits in the fight, and stressed the determination of the Government and authorities of all levels against such social and commercial deplorability.
He highlighted remarkable achievements that the Government and authorities have made against the illegal activities since earlier this year, stating that it helped to boost not only domestic production and trade, but also to ensure national market and social security.
In particular, he said, the active and enthusiastic participation of mass media, as well as political and social organisations, was proof that there had been positive changes in society to take action and raise awareness of the issue.
However, Bình said the domestic market was facing a more complicated expansion and increase in smuggling cases and trade fraud. As a result, he asked the committee to guide ministries, agencies, localities and competent agencies to adequately perform the tasks put forth in the Government's Resolution No 41/NQ-CP, dated June 9, 2015, on stepping up efforts against smuggling, trade fraud and fake goods.
In addition, Bình said more efforts should focus on inspections in a bid to bring to light those tolerating these bad deeds or not fulfilling their assigned tasks.
In the same vein, the committee needed to complete relevant mechanisms and regulations to closely supervise the temporary import for re-export model, as well as business activities relating to food safety, the deputy prime minister requested.
Another job is to raise public awareness of the harmful effects caused by smuggling, trade fraud and counterfeit goods, he said, urging the committee to play a more active role in learning about serious cases of public concern and to closely coordinate with the press, socio-political organisations and associations in this regard.
The committee reported that in the first five months of this year, especially during the Tết (Lunar New Year) festival, complex smuggling and trade fraud cases took place nationwide due to increasing consumption demands.
Violations mainly occurred in border areas and via air and sea routes with the main smuggled goods including drugs, firecrackers, explosives, oil and gas, wild animals and their products, wine, tobacco, food, pharmaceutical products, cosmetics and electronics.
Notably, there have been organisations and individuals illegally using chemicals and additives in production, cultivation and animal husbandry, which have potentially affected human health and sparked public concerns.
Thanks to the committee's guidelines, efforts to combat these activities, particularly in major cities and border provinces, have shown positive signs, contributing to ensuring national security and social safety.
From January to May, competent agencies handled more than 78,300 cases of smuggling and trade fraud and contributed nearly VND5.3 trillion (USD$238.8 million) to State coffers.
The most noteworthy cases involved the seizure of 1.84kg of cocaine at HCM City's Tân Sơn Nhất International Airport; 143.5kg of elephants tusks and their products at Nội Bài International Airport in Hà Nội; and 42,000 methamphetamine pills in the central province of Quảng Trị.
Singer's music video celebrates Children's Day
Đức Tuấn, who is one of a few Vietnamese singers specialising in classical and semi-classical music, has released a music video to celebrate Children's Day.
The five-minute video features a mash-up of three famous songs for children written by composer Trịnh Công Sơn. They are Như Hòn Bi Xanh (Like a Green Marble), Em Là Hoa Hồng Nhỏ (You Are Our Little Rose), and Vì Có Chúng Em Nên Đời Không Già (Thanks to Children, Life Is Still Young).
Three of the songs feature people's love for children, and children's love of their family and life.
The video features the voices of Tuấn and child singers from the Sơn Ca Backup Band of District 3's Children's Cultural House.
Tuấn has released dozens of albums since 2005. Most of them feature semi-classical songs by composers Văn Cao, Phạm Duy and Trịnh Công Sơn. They have attracted a large number of fans across all age groups.
Documents on Paracel and Spratly Islands on display
Maps and documents were on display at an exhibition titled Việt Nam's Hoang Sa (Paracel) and Truong Sa (Spratly) Islands: Historical and Legal Evidences held yesterday in this central province's Ðại Lộc District.
The exhibition was co-organised by the province's Department of Information and Communication and the People's Committee of Ðại Lộc.
The exhibition features over 150 maps of Việt Nam, China and Western countries, information material, four atlases and 19 documents of the Nguyễn Dynasty, as well as ancient documents in the Han Chinese and Nôm scripts (Chinese-based ancient Vietnamese script) and unverified documents on the Spratlys and Paracels before 1975, which affirm Việt Nam's sovereignty over the two archipelagoes.
Vũ Văn Thơ, deputy director of the province's Department of Information and Communication, said the display of historical documents and evidence at the exhibition is aimed at confirming Việt Nam's sovereignty over its islands and seas.
"Moreover, the exhibition also helps raise awareness and a sense of responsibility in the Vietnamese people to defend and protect the sovereignty of the nation," Thơ said.
The exhibition continues until June 3.
Injured referee Vinh says goodbye to V.League
FIFA-accredited referee Võ Quang Vinh said goodbye to V.League 2016, due to his knee injury.
Vinh, 41, injured himself while running in the International U21 Football Tournament last year. But he re-injured himself in the recent league match between Hải Phòng and Bình Dương, forcing him to have left knee surgery.
According to his doctor, Vinh needs at least six months to recover his strength. So he has to say goodbye to the remaining matches of the national premier league.
Vinh won the Golden Whistle award in 2011 and 2012.
VN have one point from U-14 tourney
Việt Nam drew Myanmar 1-1 in the first round match of the Asian Football Confederation U-14 Girls Regional Championship's ASEAN zone yesterday in Vientiane, Laos.
Trần Thị Thương of Việt Nam opened the account in the 39th minute before May Thawe Ko equalised 25 minutes after the break.
Việt Nam will next play Singapore today and Malaysia tomorrow.
Phong Phú Hà Nam triumphs in first leg of national football tournament
Phong Phú Hà Nam tied with Hà Nội 1 1-1 to win the first leg of the National Women's Football Championship-Thái Sơn Bắc Cup in the northern province of Hà Nam on May 30.
Kim Thoa scored first for host Hà Nam in the extra time of the first half.
After the break, the visitors played attack to level the score. Their effort was repaid in the 67th minute. Minh Nguyệt took full advantage of Hà Nam defenders' errors to even the score at 1-1.
The draw also helped Hà Nam take the lead in the rankings with 17 points to win the first leg of the event.
Teams will have two months off before taking part in the second leg of the event on August 22 at Thống Nhất Stadium in HCM City.
This year's tournament is divided into two phases, with the first phase in Hà Nam from May 9-30 and the second phase in HCM City from August 22 to September 12 in round-robin format.The best four teams will proceed to the quarter-finals and then compete for the national championship title.
VN wins seven slots in int'l badminton tourney
Việt Nam won seven slots in the main round of the Yonex Sunrise Vietnam International Challenge badminton tournament in Hà Nội.
Trương Thanh Long, Nguyễn Đinh Tuấn Kiệt, Nguyễn Văn Đức, Lê Đức Phát and Lê Duy Nam advanced to the main round of the men's singles event.
In women's doubles, Nguyễn Thị Phương Hà and Nguyễn Thùy Linh – and Đinh Thị Phương Hồng and Đỗ Thị Hoài – qualified to compete further.
The main round which begins today will see No 1 seed Nguyễn Tiến Minh of the host facing Indian Aditya Joshi. No 2 Tzu Wei Wang of Chinese Taipei will face Rahul Yadav Chittaboina, also from India, in the men's singles event.
Pornpawee Chochuwong of Thailand will play Vietnamese Nguyễn Thùy Linh. And No 2 Vũ Thị Trang of the host will play Rituparna Das from India in the women's singles event.
Hanoi busy with programs for children
International Children's Day on June 1st is a time when people at home and abroad show their concern for children. In Hanoi many activities are underway on this special day.
The Vietnam National Hospital of Pediatrics has organized several activities for child patients, hoping to relieve their pain and raise their morale. Collecting blood to save children's lives is one activity.
Doctor Vu Thu Hang said this is the second time the hospital has carried out such a program along with art performances.
She explained, "Our first goal is to organize art and entertainment activities and exchanges for child patients in combination with calls for contributions from the public and blood donations. Money donated will go toward gifts for 1,400 child patients and treatment costs for disadvantaged children who are undergoing treatment at the hospital."
A program called "A safe Children's Day 2016" was held in the National Institute of Hematology and Blood Transfusion, where 430 gifts were presented to child patients struggling with a fatal disease together with arts performances.
Nguyen Thi Yen, a relative of child patient Nguyen Tuan Dat, said, "We hope volunteers will come to the institute more often to organize such programs so the children here can enjoy some fun."
International Children's Day in Vietnam coincides with the end of the academic year, when children have more time to participate in extra-curricular activities. Many children prefer practical experience classes.
Detrang (White Goat) Farm, an experimental education model for children in Ba Vi district, Hanoi, has created an entertaining program which offers a variety of interesting activities – carrying water with a shoulder pole, blind-man's-buff, and a kind of tug of war – pulling the spathe of the areca tree.
Through these activities children learn about Vietnam's traditional culture and folk games. 9th grader Tran Minh Duc of Phan Dinh Giot Secondary School in Hanoi, shared his feeling about the festival.
"Through this program, we've taken part in activities that we only knew from books-planting rice, riding horses, and taking care of goats. I've been involved in the milking process. I like it very much. Our parents do these activities with us. It's a really useful practical experience for me," Duc said.
On June 1st, 1950, when the national resistance war against French colonialists was in its most intense period, President Ho Chi Minh sent a letter to Vietnam's children. Since then June 1st has been Vietnam's Children's Day.
Korean folk paintings displayed in Hanoi
An exhibition of ancient Seoul and Korean traditional paintings opens at the Korean Cultural Center in Hanoi.
The display features more than 40 works in the categories of royal folk, ordinary folk paintings, Korean traditional crafts.
The exhibition describes the characteristics of Korean people in daily and spiritual life.
Highlight exhibits of the event are folk paintings by artist Jung Seung Hui. She was the student of Kim Man Hui, the only Korean artist recognized as the intangible cultural heritage Number 18. Jung Seung Hui has been contributing greatly to the development of national folk paintings nowadays.
The event will run until June 17.
Saxophonist's annual charity concert raises fund for disabled children
The 4th annual "Bourbon Street Jazz & Blues Festival" raising money for disabled children's "Gift of Mobility" fund was held at the Cargo Event Space in Ho Chi Minh City's District 4 on May 28.
The concert was organized by the Kids First Enterprise and directed by saxophonist Tran Manh Tuan.
International artists, including The British International School Big Band, the Jazz Sextet, the PALM (Pêche à la Mouche), the Tastes Like Chicken, the Nola Blues Club, Marvin Kociszewsky , singer Mai Khoi, young saxophonist An Tran who is daughter of saxophonist Tran Manh Tuan, performed in the show.
Tran Manh Tuan is one of the most prominent jazz saxophonists in Vietnam. He has taught at the Ho Chi Minh City Conservatory. He is also a composer, arranger and producer.
Tuan began playing the saxophone in 1979 and is a graduate of the Berklee College of Music. He has released five solo CDs and has performed and recorded with several Vietnamese pop singers. He is also known for his interpretations of the songs of Trinh Cong Son.
The saxophonist has perform with a number of well known musicians such as Herbie Hancock, Wayne Shorter, Derek Nash, Lillian Boutte, Charlie Bisharat, Dave Grusin, Don Grusin, Hans Dulfer, Fulvio Albano, Rob Mullins, Mike Del Frerro, John Ferguson, Stephan Eicher, Co Co York, Jennifer Ryan, Mezcal Jazz Unit, Dana Leong, Denis Mininfield.
The famous artists introduced his jazz band, Saigon Big Band in 2012. The band consists of 22 artists, including veteran jazz artists of Saigon in the past 30 years and young artists who won domestic and international awards in recent years.
Scientific Research Eureka Prize 2016 launched
The Ho Chi Minh City Youth Union has just launched the 18th Eureka Scientific Research Student Award.
This year's Euréka Awards presents for Vietnamese students whose are studying at universities, colleges, academies across the country in the majors of social humanity, education, economy, science & information technology, planning, architecture & construction, legal, chemical technology, medicine, forestry and fisheries, natural resources and environment and food technology.
The deadline to receive documents is till September 30 at the Young Science and Technology Development Center- HCMC Youth Union No. 1 Pham Ngoc Thach Street in district 1.
The award ceremony is scheduled to take place in December, 2016.
Quang Nam: Fine art products receive local branding
As many as 34 fine art products made from silk, rattan, bamboo and wood in the central coastal province of Quang Nam were granted the branding: "Crafted in Quang Nam", at a conference held in Hoi An city on May 31.
This is the result of the first selection round hosted by the provincial Fine Art Association from March this year. The chosen products have to embody local specific traditional values and receive the province's standout rural industry award.
Quang Nam province has been a pioneer in the country, in building and branching out the branding for its fine art products, which was designed for domestic and foreign tourists to identify high-quality goods of the locality. The move aims to develop traditional craft villages while creating jobs for local labours, and making contributions to building new-style rural areas.
According to Vice Chairman of the provincial Cooperative Alliance Vo Bay, the traditional fine art villages in the province are facing difficulties in launching their products into the market while the customers want to know the products' exact origin.
He added that the branding will help businesses, villages and cooperatives to increase their fine art products as well as expand consumer markets.
The branding contributes to developing sustainable tourism in the province, a representative from the United Nations Educational, Scientific and Cultural Organisation's Vietnamese Office said, noting that the fine art association needs to complete criteria for the branded products, while local businesses should promote the branding and popularise it among tourists.
Quang Nam province is currently home to 65 traditional craft villages with hundreds of fine art products. The provincial fine art association will join hands with relevant agencies to choose additional standardised products in the coming time.
Small rain still causes flood
A small- scale rain lasted less than an hour causing flood on many roads and urban areas in suburban districts of Ho Chi Minh yesterday evening.
The rain caused serious flood and traffic jam in Binh Tan district and districts 6, 10, 11.
According to the Ho Chi Minh City Management Center of Anti-flood Program, there are around 40 roads flooded the rain and nine streets flooded by flood tide.
This year, the city will pose more actions to make more than 10 places without flooding. Currently, many anti-flood projects of the Ho Chi Minh City are scheduled to finish in the year like projects across Nguyen Van Qua (district 12), Kinh Duong Vuong (Binh Tan district), Do Xuan Hop (district 9), Nguyen Xi, Ung Van Khiem (Binh Thanh district), Mai Hac De, Le Thanh Phuong (district 8).
Can Tho selected as one of 100 Resilient Cities
The southern city of City has recently been selected to be part of the '100 Resilient Cities' programme (100RC), pioneered by the US-based Rockefeller Foundation.
At the end of May, 2016, 37 cities from all over the world had been chosen as part of the 100RC network, with Can Tho being Vietnam's sole representative.
Joining the 100RC network, Can Tho will receive the programme's support to build its own resilience strategies, and have opportunities to share and learn from the experiences of other member cities as well as approach service suppliers and experts in many fields.
The strategy, designed with support from 100RC, helps cities plan for more integrated solutions to the challenges posed by globalisation, urbanisation, and climate change – including important social and economic impacts.
The programme was launched in May 2013 on the 100th anniversary of the Foundation. With over US$200 million in funding commitments, 100RC aims to help cities around the world become more resilient to the physical, social and economic challenges that are a growing part of the 21st century.
Michael Berkowitz, President of 100 Resilient Cities said the level of success for 100RC will not solely be determined by progress within the selected network of 100 cities, it will also be seen in the ability for solutions to scale, and for all cities around the world to build off of the innovative work leveraged by these 100 Resilient Cities through implementation of their Resilience Strategies.
Police raid dozens of illegal gold mines in Quang Nam
Police in the central province of Quang Nam have raided dozens of illegal gold mines in the area.
Colonel Nguyen Duc Dung from Quang Nam Police told DTiNews that on May 31 that they have done a large raid on dozens of illegal gold mines which have been operating for a long time around the Thanh River Conservation Area in Nam Giang District.
"The raid was conducted in mid-May when a group of over 30 police officers disguised themselves as local officials coming to call on the gold miners to vote at the national election," Dung said. "These mines were in remote and mountainous areas which were very difficult to access. So it took us many days to investigate their activities and conduct the raid."
According to local police, they have destroyed 22 temporary camps set up at 13 gold mines, and seized machinery and equipment. More than 200 workers were driven out of the area.
Illegal gold mining has become a hard to resolve problem in the province despite several recent tragic accidents.
Early last month, four miners were killed and three others were injured after asphyxiation occurred at a gold a shaft in Thanh My Town, Nam Giang District.
Statistics show that nearly 40 people having been killed in nine separate gold mine accidents in Quang Nam since 2009.
Sa Huynh culture's artifacts presented to Da Nang Museum
The Da Nang Cultural Heritage Management Centre Da Nang on May 31 handed over artifacts discovered during excavation in the garden of Khue Bac communal house in Hoa Hai ward, Ngu Hanh Son district, in the central city of Da Nang in 2015 to the Da Nang Museum.
After a year of archaeological excavations at the site, a total of 5319 precious objects were unearthed belonging to the Sa Huynh culture – a culture that flourished between 1000 BC and 200 AD in central and southern Vietnam.
The objects include stone tools, Sa Huynh pottery products, Champa ceramic products, Dai Viet pottery, Chinese ceramics, coins, records, photos, diagrams and drawings related to the excavation pit.
Archaeologists believe that the site was a residential and burial area of residents under Sa Huynh culture, with extremely rich artifacts and pottery patterns in many different types, reflecting rich material and spiritual lives of Sa Huynh residents.
The two-layer culture started in the 2nd century and lasted continuously to the 19-20th century, directly on the residential areas of the Sa Huynh people. The second cultural layer belongs to Sa Huynh culture, dating back over 3,000 years. It is a typical residential relic of the Sa Huynh culture in Da Nang, playing as the foundation for cultural development of the next period in the locality.
Director of Da Nang municipal Department of Culture, Sports and Tourism Hung Huynh said that the artifacts, which precious cultural and historic values, would enrich Da Nang Museum. He recommended Da Nang Museum develop plans to preserve and exhibit the artifacts in the best condition possible.
Art photo festival spotlights Hanoi, Hue, Ho Chi Minh City
One hundred photos featuring the beauty and daily life in three major cities – Hanoi, Hue and Ho Chi Minh City – are being displayed at an art photo festival being held in Hanoi from May 27 to June 2.
Out of the exhibits, 40 photos highlight the image of the capital, 30 others feature Hue and the remainder, Ho Chi Minh City.
According to the organisers, the displayed photos are high-quality works in both content and style.
Through the artworks, the photographers present many discoveries and new perspectives on the people's lifestyles in the three cities.
The photographers captured vibrant life in all corners, reflecting the land, people and cultural beauty as well as specific characteristics of each city.
Initiated in 1978, the festival has become a co-operative arts event among photographers' associations in Hanoi, Hue and Ho Chi Minh City, introducing visitors to the beauty of the three cities.
The event also offers an opportunity for photographers from the cities to meet and discuss experience in order to improve their skills.
The festival is part of activities to celebrate the success of the election of deputies to the 14th National Assembly and People's Councils at all levels for the 2016-2021 tenure.
Vietnam successful at Vietnam international open karate championships
Vietnam claimed first-prize at the inaugural Vietnam International Open Karate Championships which officially wrapped up in the northern central province of Thanh Hoa on May 28 after three days of competition.
The tournament drew the participation of nearly 400 martial artists in 12-13, 14-15, 16-17 and over 18 age groups from 11 countries and territories around the world. Vietnamese athletes were divided into three teams including Vietnam 1, Vietnam 2 and Vietnam 3.
Vietnam 1 claimed first place with eight gold, four silver and six bronze medals, followed by Vietnam 3 with seven gold, one silver and four bronze medals.
The Malaysian team secured five gold, three silver and four bronze medals, coming in third overall.
The event provided a good opportunity for martial artists to gain further competition experience in preparations for upcoming tournaments this year, including the Asian and World Karate Championships.
Earlier on May 27, Nguyen Tran Duy Nhat won a gold medal in the 60kg category of the B Division (Amateur Division) of the 2016 World Muaythai Championships held in Sweden. In the final match, he knocked out Mirbek Sartkalmokov of Kygryzstan in the first set.
The World Muaythai Championships brought together nearly 1,400 martial artists from 100 countries and territories around the world.
University students to perform plays in English
Students of the HCMC Open University will stage plays in English on June 4 and 5 as part of their extra academic activity.
They will perform three plays based on renowned literary works "Vanity Fair" by William Makepeace Thackeray, "The nightingale and the rose" by Oscar Wilde, and "Atonement" by Ian McEwan.
The shows at 30 Tran Hung Dao Street, District 1, HCMC will start at 7 p.m. on the two days.
Free tickets will be given on the 'first come first served' basis from Tuesday at the university's student association, 97 Vo Van Tan Street, Ward 6, District 3.
HCM City hosts Vietnam-Japan Mini Book Fair
The Vietnam Publishers Association and the Japan Publishers Association Shokyo organized the first Vietnam-Japan Mini Book Fair in HCMC last week with participation of 16 Japanese and 19 Vietnamese publishers.
The fair featured seminars on publishing activity and copyrights in Vietnam and Japan, and operation of book firms and publishers in Vietnam, as well as visits of participating publishers to Nguyen Van Binh Book Street in District 1.
Le Hoang, vice chairman of the Vietnam Publishers Association, told the opening of the fair on Thursday that the three-day event was an opportunity for Vietnamese publishers and book firms and Japan's leading publishers to exchange experience and trade book copyrights.
The fair also contributed to diversifying book entries to meet demand of Vietnamese readers and promoting the copyright implementation of domestic publishers, Hoang said.
Yamamoto, chairman of the Japan Publishers Association, said publishing work related to not only creating contents but also looking for readers. He hoped that Vietnam's young readers would give a boost to the publishing industry in Japan.
The fair was also a chance for Japanese publishers to learn about Vietnam, Yamamoto said.
Shokyo expected that cooperation between Japan and Vietnam will grow stronger. On this occasion, Shokyo presented a kimono costume to the Vietnam Publishers Association
Vo Van Long, deputy director of the HCMC Department of Information and Communications, said that the agency will create favorable conditions for publishers of the two countries to operate and strengthen cooperation.
Flooding headache
Downpours earlier this month eased scorching heat in Hanoi, HCMC and Bien Hoa but caused severe floods. Many parts of Hanoi were submerged under water after heavy rain last week, disrupting people's work and children's schooling. HCMC and Bien Hoa are in the same boat because many of their streets were inundated after rain at the start of the rainy season.
But the worst has yet to come as more heavy rains and storms are forecast to strike Vietnam's coast this year as the La Nina weather phenomenon often follows El Nino which has already brought drought and salination to different parts of the country, especially the Central Highlands and the Mekong Delta.
Experts say poor urban planning is to blame for such flooding. Authorities have approved too many residential areas and apartment buildings while the existing drainage systems have not been developed accordingly. Rapid urbanization has led to encroachments on canals and rivers, which have in turn clogged water drainage.
HCMC has arranged only VND22.95 trillion for flood control projects and programs in the 2016-2020 period while the total funding requirement is VND97.3 trillion (US$4.34 billion).
Shortly after rain in mid-May, traffic on many streets in Bien Hoa of Dong Nai Province ground to a halt. Bien Hoa needs huge funding to carry out a major drainage and wastewater treatment project, with the Japan International Cooperation Agency (JICA) expected to lend VND8.4 trillion.
In the short term, dwellers in HCMC and Bien Hoa will have to live with rain-triggered floods. Up in the north, Hanoi may fail to complete the second phase of a drainage project capitalized at VND8 trillion this June since some components remain half-done due to slow site clearance.
Vung Tau, Padang become twin cities
Vung Tau city in the southern province of Ba Ria – Vung Tau and Padang city of West Sumatra province, Indonesia became twin cities on May 31 with the signing of a Memorandum of Understanding officially establishing the relationship.
Under the MoU signed by Le Tuan Quoc, Vice Chairman of the Ba Ria Vung Tau People's Committee who is heading the delegation visiting Padang, and Mahyeldi Ansharullah, Mayor of Padang, the two provinces will promote cooperation in trade, fishing and processing, tourism and language exchanges.
The two sides also agreed to continue exchanging delegations to boost understanding and help businesses seek cooperation and investment opportunities.
They also discussed future cooperation opportunities for the development of both Vung Tau and Padang.
Ba Ria Vung Tau province and Padang city established a relationship in 2012 and have similarities in culture and potential for cooperation in such fields as the fishing, agriculture and tourism trades.
Ba Ria Vung Tau is situated in Vietnam's southern key economic zone and is a gateway to the East Sea for provinces in Vietnam's southeast region. The province is linked to HCM City and neighbouring provinces via roads, air routes, railways and waterways. Vung Tau city is the centre of the oil exploitation industry in southern Vietnam.
Padang is West Sumatra province's capital and the largest city on the western coast of Sumatra and the fifth largest city in Indonesia with a population of more than one million. Besides fishing, Padang is known for gold, coffee, salt and garment.
Mormon Church representative committee recognised
The Government Committee for Religious Affairs on May 31 officially recognised the Representative Committee of the Church of Jesus Christ of Latter-day Saints Vietnam.
The Church is often referred to as the "Mormon Church" because of a belief in the Book of Mormon, a volume of holy scripture said to be a record of God's dealings with ancient inhabitants of the Americas.
The Church of Jesus Christ of Latter-day Saints (LDS Church) was founded by Joseph Smith (1805 – 1844), its first president, on April 6, 1830 in Fayette Township, New York.
It was then developed by Brigham Young who migrated with the new Mormons to Salt Lake City in 1847.
The LDS Church was brought to Vietnam in 1962, and was registered in 1967 by the South Vietnam government. After 1975, the LDS Church in Vietnam ceased operations, with most of its members migrating to other countries. Those who stayed in the country practiced the religion at home.
In 1995, the Mormon Church revived its activities in Vietnam, with two groupings formed in Hanoi and Ho Chi Minh City. Currently, the Church has nearly 1,000 followers, mostly in the two cities.
To support Mormons to practice religion, the Interim Representative Committee of the Church of Jesus Christ of Latter – day Saints Vietnam was officially recognised in May 2014.
Speaking at the recognition ceremony on May 31, the committee's Chairman Hoang Van Tung said that the recognition will help Mormon followers in Vietnam have a close and full organisation and obey Vietnamese law and the Church's creeds.
Bui Thanh Ha, deputy head of the Government Committee for Religious Affairs, said that the recognition of the representative committee acknowledges the contributions made by Church followers, shows the Party's and State's policy of religious freedom, and contributes to Vietnam-US relations.
Although the Mormon Church in Vietnam is small, its Representative Committee has been recognised by the State, which shows that the country does not discriminate between religions, Ha said.
Ha affirmed that the Church has contributed to boosting socio-economic development.
According to him, Vietnam is currently home to 39 religious organisations of 14 recognised religions, with their followers accounting for 27 percent of the population.
He expressed his hope that the religions continue to coexist peacefully and contribute to national construction.
HCM City, Champasak foster in-depth ties
Leaders of Ho Chi Minh City and Laos' Champasak province have agreed to further bolster their win-win partnership in various fields, especially economy.
The agreement was made during talks on May 31 between Secretary of the Ho Chi Minh City Party Committee Dinh La Thang and Secretary of the Party Committee and Governor of Laos' Champasak province Bounthong Divixay, during the former's ongoing visit to the province.
Bounthong Divixay expressed delight at cooperation between the two localities over the past years. Ho Chi Minh City has supported Champasak in infrastructure building, health care and human resources development, while both sides have held regular exchanges of delegations as well as joint trade and investment activities, he noted.
He asked Ho Chi Minh City to help Champasak in urban planning, tourism infrastructure improvement and heritage conservation.
Reviewing bilateral ties in the 2011-2015 period, the Ho Chi Minh City leader expressed hope that in the future, Champasak will assist Ho Chi Minh City 's investors in the province.
Vietnam , and the city in particular, wishes to become the largest investor of Champasak, he stated.
He also suggested that both sides specify cooperation goals, so as to enhance the effectiveness of cooperation activities.
Following the talks, leaders of Ho Chi Minh City and Champasak signed a memorandum of understanding (MoU) on their partnership in the 2016-2020 period.
Under the MoU, both sides will increase exchanges of high-ranking delegations as well as affiliations among departments and enterprises, while sharing information in fields of mutual interest.
They will co-organise trade and investment promotion activities, thus connecting businesses.
Ho Chi Minh City will continue supporting Champasak in human resources training by offering 20 scholarships each year to students at different levels from Champasak.
Ho Chi Minh City will continue implementing the second phase of a project to design planning for Paksong town, while considering to help Champasak in boosting hi-tech agriculture.
Vietnam Beauty Association launched
The Vietnam Association for Vocational Training and Social Works announced the establishment of the Vietnam Beauty Association (VNBA) in Hanoi on May 31.
Present at the launching ceremony were representatives from the Ministry of Labour, Invalids and Social Affairs, the National Assembly's Committee for Social Affairs, the Ministry of Culture, Sports and Tourism, and the Vietnam Women's Union.
Speaking at the ceremony, Vice President of the Vietnam Association for Vocational Training and Social Works Nguyen Thi Thuan said the VNBA was founded to connect all organisations and individuals working in the beauty industry in the hope of providing safe and high-quality beauty services for people.
The association will develop a set of occupational skill standards and a training curriculum for professions such as hairstyling, makeup and skincare services; organise seminars, vocational training courses and courses in management and soft skills to improve the capabilities of its members.
It will also be responsible for holding national and international skill competitions and bolstering international cooperation in the field.
The VNBA is run by the Vietnam Association for Vocational Training and Social Works under the Ministry of Labour, Invalids and Social Affairs.
Quang Nam exhibition spotlights Vietnam's sea, island sovereignty
An exhibition displaying maps and documentaries affirming Vietnam's sovereignty over Hoang Sa (Paracel) and Truong Sa (Spratly) archipelagos was opened in Dai Loc district, in the central coastal province of Quang Nam on May 31.
The exhibition introduces 150 maps published by Vietnam, China and western countries, together with 60 maps and hiflex posters, four ancient Atlases, and official documents dated back from Nguyen dynasty, among others.
Particularly, a number of visual documentaries are also being shown as evidence of Vietnam's sovereignty over Hoang Sa and Truong Sa.
The event aims to enhance the public's awareness and responsibility of protecting the country's sovereignty over sacred seas and islands, while recalling the sacrifice of generations to guard those seas and islands, and confirms the Party, State and people of Vietnam's determination to firmly preserve the nation as well as sea and island sovereignty.
The event will remain open until June 3.
Ex-bankers punished for breaking loan provision rules
Punishments from five-years to life imprisonment were meted out to five defendants, including ex-staff members at a State-owned bank, guilty of misappropriating assets and violating loan provision regulations at a trial in Ho Chi Minh City on May 31.
The People's Court of HCM City brought to trial Nguyen Duc Tri (former Director of KTT Construction Design Advisory Co. Ltd) and Truong Xuan Quang (former chief accountant at KTT).
Three others were ex-employees at the Binh Chanh branch of the State-owned Vietnam Bank for Agriculture and Rural Development (Agribank), namely Nguyen Van Loi (former Deputy Director of Agribank Binh Chanh), Tran Thi Hoang Yen (former deputy head of the business plan division), and Nguyen Thi Thanh Nga (former credit staff member).
According to the indictment, taking advantage of their acquaintance with former Director of Agribank Binh Chanh Ly Van Chuc, who now passed away, Tri and Quang forged a dossier on a project to build a residential area named Central Park in Tan Phu ward of HCM City's District 7.
The falsification was to borrow 96 billion VND (nearly 4.29 million USD) from Agribank Binh Chanh while the project was not approved by authorised agencies.
Tri and Quang later forged construction material purchase contracts, which were part of the dossier, to persuade Agribank Binh Chanh to disburse 10 billion VND (446,700 USD).
The bank's staff members, Loi, Yen and Nga, violated loan provision regulations and provided a 106 billion VND (4.73 million USD) loan for the KTT company. Tri and Quang misappropriated more than 99 billion VND (4.42 million USD) of the sum.
At the trial, the jury decided to sentence Tri to life imprisonment and his accessory, Quang, to 20 years in prison for swindling to misappropriate assets. They must also give a compensatory payment of over 231 billion VND, or 10.32 million USD (both principal and interest) to Agribank Binh Chanh.
Loi, Yen and Nga must serve seven, six and five years in prison, respectively, for breaking the loan provision regulations of credit institutions.
Previously, they caused a 27 billion VND (1.2 million USD) loss in another case and received prison terms for the crime at a trial on June 17, 2015.
In total, Loi has been sentenced to 15 years in prison while Yen and Nga, 13-year term each.
Lao province seeks cooperation opportunities with Binh Duong
A delegation from Laos' southern province of Attapeu, led by Secretary of the provincial Party Governor Nam Vinhakhet, paid a visit to the southern province of Binh Duong on May 31 to seek cooperation and investment opportunities.
At the meeting, Tran Van Nam, Secretary of Binh Duong province's Party Committee, was pleased that the Vietnam-Laos traditional friendship and relationship has been ever strengthened and developed extensively in all fields.
Sharing Binh Duong's development scheme in the future, Nam said Binh Duong has been striving to become a centrally-governed city before 2020 and in order to achieve that goal, the province has been positively implementing breakthrough programmes, including boosting ties with countries in the world and the region, especially with Laos.
Binh Duong is ready to cooperate with Attapeu province and wants cooperation programmes to be deeper and more effective, said Nam.
For his part, Governor of Attapeu Nam Vinhakhet introduced Attapeu's potential in land, mineral mines, nature tourism and relic sites.
He hoped that Attapeu and Binh Duong will have many cooperation programmes in the fields of agriculture, education and training, health, and in the training of human resources.
VNA/VNS/VOV/SGT/SGGP/TT/TN/Dantri
Social News 1/6 have 8077 words, post on at June 1, 2016. This is cached page on ReZone. If you want remove this page, please contact us.