There definitely is a market for tablets which can be used as phones. They might not fit in a pocket or be comfortable to hold for very long, but you can browse the Web and enjoy movies on a large screen without having to carry multiple devices around. Lenovo's offering is budget-minded and competes with the likes of tablets from local as well as international brands. Its street price of Rs. 13,999 puts it roughly in the middle of the price range as far as this segment is concerned.
Lenovo's Tab A7 series is available in a variety of configurations. We have the A7-50 3G with us for review, which is also known as the A3500-HV. The HV suffix indicates that this model supports 3G data as well as voice calling – other variants listed online, which might or might not necessarily be available, do not support 3G voice. The front of the box only says Lenovo Tab A7, so make sure you check the labels on the back.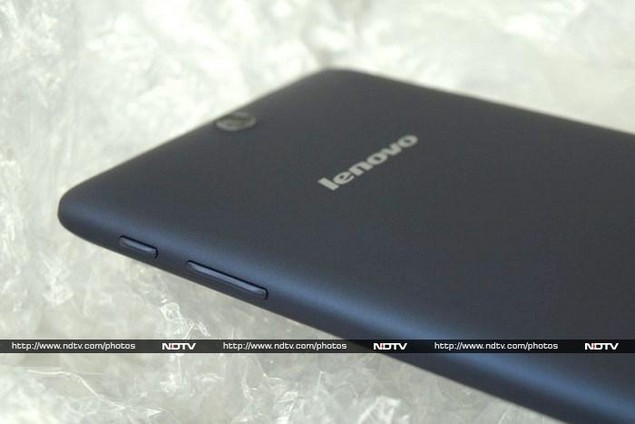 Look and feel
The shell is not removable, and the battery is sealed inside. There's a flap covering the SIM and microSD card slots on the left, with the power and volume buttons on the opposite side. The plastic coating feels like soft-touch rubber in the hand – this is the sort of texture that can get oily very quickly and will also start to peel in patches.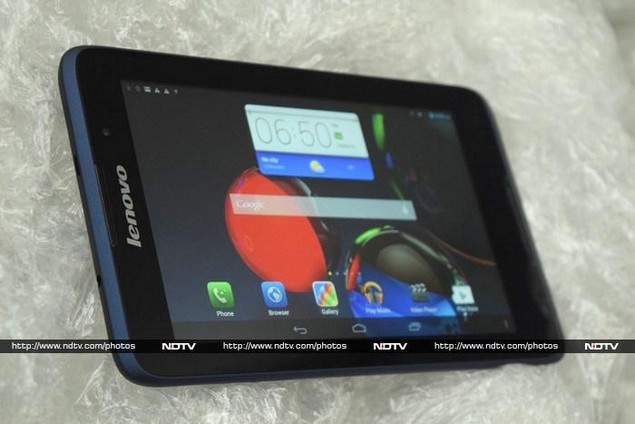 The front is mostly plain, apart from a typically oversized Lenovo logo right on top. This actually helps us orient the device which is otherwise mostly symmetrical. The earpiece grille on the top has a twin on the bottom – we assumed the symmetrical look meant that these were stereo speakers, but more on that later.
Overall, the device looks pretty good and feels well-built too. We're not sure how long the finish will last, though a cover would go a long way in keeping it protected.
Lenovo includes only a charger and USB cable in the box. These aren't particularly high quality. We're surprised by the lack of a wired headset, considering how awkward this tablet is to use as a phone.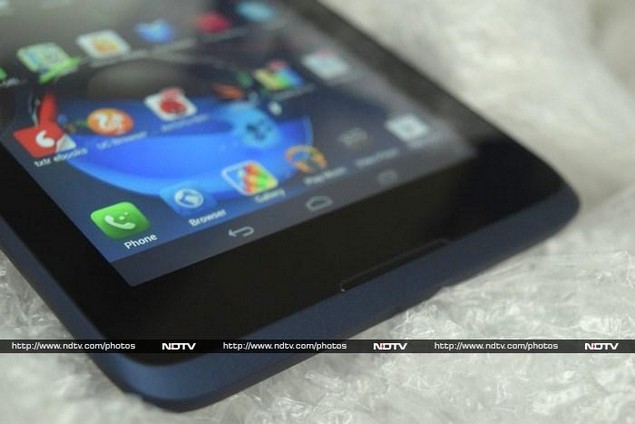 Specifications and software
The screen has a respectable resolution of 800×1280 pixels, which is standard in this price class. You get a 5-megapixel camera without flash on the rear, and a 2-megapixel one in front. There's a hefty 3,450mAh battery which is rated to last for up to two weeks with the device in standby.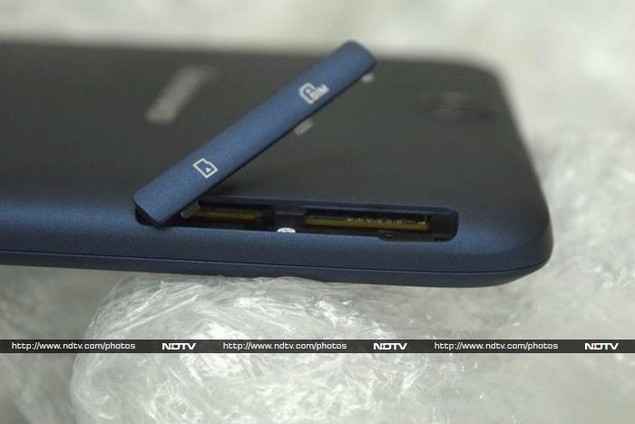 The A7-50 runs Android 4.2 and the company's website specifies that a free update to Android 4.4 will be released, though no release date has been announced. Lenovo's custom Android UI merges the homescreens and launcher, so you only have to swipe left or right to get to all your app icons and widgets. This means apps and widgets tend to get mixed around, and sorting them later becomes painful. Most of the icons have been reimagined, but other than that, the interface is pretty standard Android fare.
There are quite a few preloaded apps, but their usefulness is debatable. There's Skype, AccuWeather, Evernote, Norton Mobile, Kingsoft Office, Route 66 Navigate, UC Browser, Chrome and TxTr Ebooks, most of which are removable. There's also Lenovo's own SHAREit app, which lets you exchange files between devices; Power Manager HD which lets you choose power saving options and usage by app; a pointless Lenovo Tab app which is just a promotional video; an app for pairing Bluetooth keyboards and mice; and a Bluetooth proximity monitor app.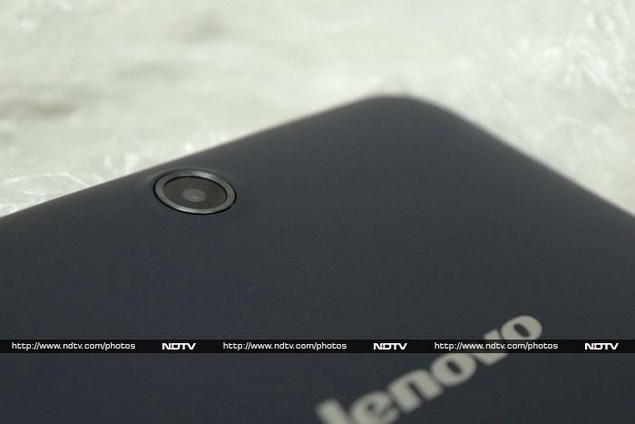 Performance Yoga Tablet 8 ( Review | Pictures ).
Informal usage was generally pleasant. There's a tiny bit of a lag when swiping between pages and launching apps, but the UI is fluid and there are no usability issues. We encountered one random restart and the Google Play app quit unexpectedly a few times during our test period.
We were pleased with the A7-50's battery life – it lasted for in our video loop test which means you could probably use it for a full day of entertainment
The screen is good, though not sharp. It also isn't all that legible in direct sunlight. If you're used to a high-res smartphone screen, you'll definitely notice that text looks more jagged. Only the grille below the screen is a loudspeaker; the one on top is only an earpiece for making calls with. We found it a little jarring to watch videos knowing the sound was only coming at us from one side of the screen. The speaker isn't loud enough at all, which masks its distortion to a certain extent.
Video files played well enough; we didn't expect our heavy 1080p clips to play at all, and therewas heavy artefacting in all but the lightest ones. 720p didn't seem to present any such problems.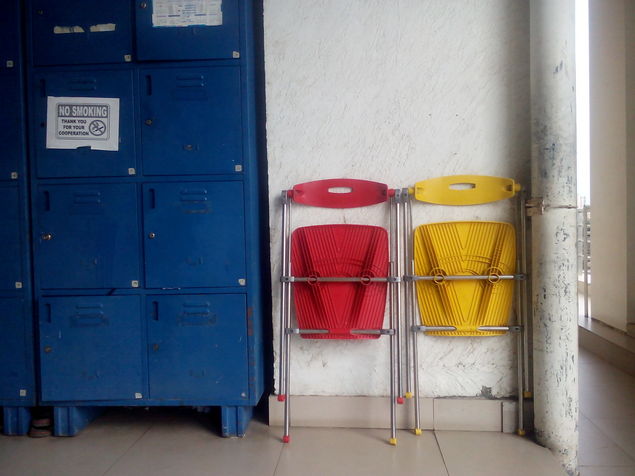 (Click to see full size)
We tried both cameras and were not very impressed. The camera app offers very few options and it isn't even possible to tap around the screen to set the focus and exposure. Photos look decent on the tablet's screen if they were taken in good light, but the quality deteriorates instantly when you see them at full size. Distant objects look like cartoon blurs. Video is recorded at 720p by default and is not very good at all. The front camera is adequate for close-up shots and video chatting.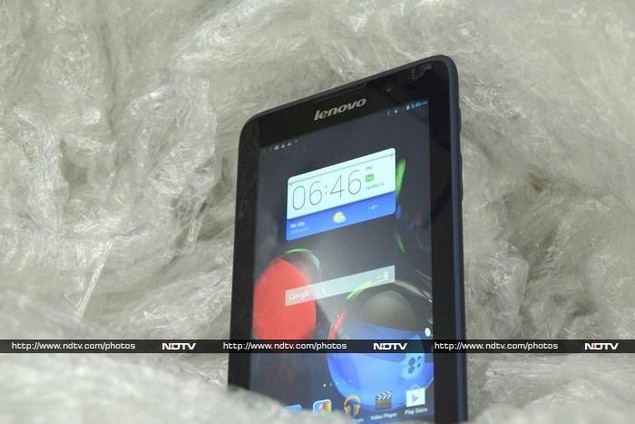 Verdict Asus Fonepad 7 , and various low-priced models from Digiflip, HCL, iBall and other local brands.
We would advise potential buyers to weigh their needs very carefully – 3G data is a very useful feature, but if you aren't going to use your tablet as a phone and don't want to pay for a second SIM card, you might as well buy a regular tablet with better features. Even the first-generation Wi-Fi iPad mini sells for around Rs. 14,500 now.
Lenovo Tab A7-50 3G Review: More Tablet Than Phone have 1088 words, post on gadgets.ndtv.com at September 17, 2014. This is cached page on ReZone. If you want remove this page, please contact us.