VN-S Korea Friendship Week kicks off
(01-12-2005)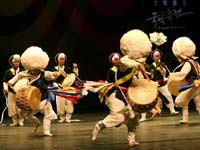 Drums of passion: Korean artists will perform in the Gugak Music Festival to celebrate diplomatic relations between Viet Nam and South Korea. — VNS Photo
HA NOI — A cultural event of the Korean Gugak Music Festival called Korean Dramatic Song-Korean Music will mark the opening of the Viet Nam-Republic of Korea Friendship Week in commemoration of the 13th anniversary of the establishment of diplomatic relations between the two countries.
The concert will be tomorrow in HCM City and next Tuesday in Ha Noi. Traditional Korean Gugak music will join contemporary Vietnamese genres, realising a cultural exchange between the two countries.
The original singers from a famous Korean drama series' soundtrack will perform the series' repertory, while some scenes of the dramas air in the background. Park Ae Ri, who is on the soundtrack of the drama series Daejanggum and singer Byul from Full House are included in this performance.
The soundtrack singers from the dramas Lover of Paris, Winter Sonata and Stairs to Heaven will also participate in the show (with film clips).
Well-known Vietnamese singers My Linh and Phuong Anh, the MTV and Anh Em bands, and the famous Korean hip-hop singer Defconn and the ballad singer Seo Young Eun will also perform at the concert.
Vietnamese models will don Korean traditional costumes from the drama Daejanggum during the Korean Gugak Music Festival.
The festival is a meaningful cultural exchange and affirms a long-lasting relationship between the two countries. Korean and Vietnamese musicians, performers, and audiences will join together for this peaceful event embracing diplomacy.
Vietnamese artists and 25 Korean calligraphers will present more than 50 calligraphy pieces from the late President Ho Chi Minh's Prison Diary in HCM City, from December 8 to January 2, in the President's birthplace, Nghe An Province, from January 5 to 12, and in Ha Noi from January 16 to 29.
Professor Kim Sang translated the well-known collection of President Ho Chi Minh and first published it in the Republic of Korea (RoK) in 2000.
On the occasion of the 2005 APEC in Korea, the collection was recently displayed in Busan. After the exhibition, the Ho Chi Minh Museum will receive the works.
During the festival, the award ceremony of the 2005 essay writing contest on Korea will be on December 18. Thirty-five participants with the best essays will advance into a discussion with the judging board to compete for the highest prizes.
This is the ninth consecutive year the embassy, in cooperation with the Viet Nam-RoK Friendship Association, has organised this event.
The Friendship Week will be busy with many activities, including a trade exhibition from December 8 to 12 in the Giang Vo Exhibition and Fair Centre.
The events include Korean traditional music, dance and circus performances, the Korean Song Festival for Vietnamese employees of South Korean firms in Viet Nam and students studying Korean in college, and a lottery. — VNS
VN-S Korea Friendship Week kicks off have 589 words, post on at November 30, 2005. This is cached page on ReZone. If you want remove this page, please contact us.